In Holiday Games by Jaci Burton, the holidays are coming, her sister in law's wedding is approaching, and Liz would like nothing more than to get pregnant with Gavin's baby. If you'd asked Liz a few years ago if she dreamed of marriage and a baby, she would have honestly said no. Now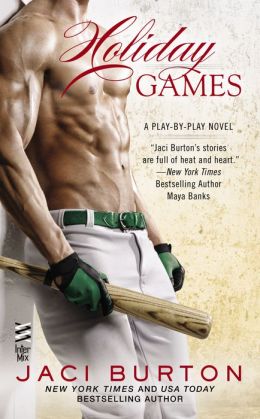 though, Liz can think of nothing better.
Liz has loved Gavin forever, and is living her dream life now as part of the Riley family. Liz and Gavin have a great relationship and have been trying for over a year to get pregnant with no luck…but Liz doesn't let this stop her adventurous ways, her love of life and family, and preparing to host the entire Riley family for Christmas! Liz is determined to get pregnant, but some things even Liz has no control over! Will she get her Christmas wish this year?
Holiday Games is a fast paced, energetic read. There is no real drama…there is a lot of love, laughter, and hope. The concept of not being able to have a baby has the potential to really create havoc in a character's life, but Liz is mature and is not letting the whole baby issue rule her life. Holiday Games brings other characters into the story line, and I admit that it is a bit confusing and 'noisy' if you haven't read the other stories…but they all add strength and backbone to the family that is the Riley's. Jenna's wedding plays an important role in Holiday Games also, and it shows the strength and togetherness of the Riley's.
Holiday Games is a perfect length novella for the story that had to be told, but I would recommend it as an addition to the other stories in this series instead of a stand alone. It is a fun catch up story for new and old of the Riley's.
I'd recommend Holiday Games for a romance reader looking for a lot of steam, very little drama, and some holiday fun with a big, boisterous family!
Book Info:

Published November 19th 2013 by Penguin | Series: Play-by-Play Series
A Holiday Novella
A Riley wedding is in the works, a Riley Christmas means a house full of family, and baby making is on Liz Riley's mind. Chasing Gavin around and meeting in dark closets can be fun, but Liz is more than a little determined. Even with family in every corner of the house, Gavin is more than ready to do whatever Liz wants—especially when sex is involved. It's a Riley family Christmas.