Holiday Homecoming Secrets by Lynette Eason is a tense thriller with lots of action.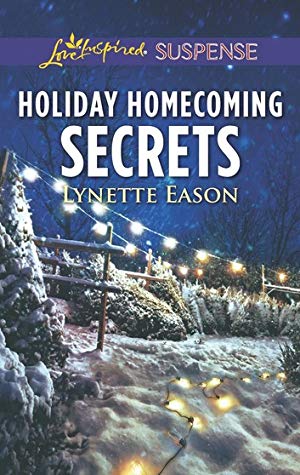 Bryce Kingsley is finally home after a long period when he did not keep in touch with many of his friends. He has rented an office in town and is ready to set himself up as a private investigator. But first his friend Frank Shipman has asked him to help with an investigation he has ongoing of a drug ring and police corruption.
Bryce gets permission to ride along with the local police as he has told them he is thinking of becoming a policeman. Bryce is riding along with Officer Dylan Fitzgerald when the call comes in for backup for Detective Jade Hollis.
Jade is at a deserted textile mill investigating after a call in about strange lights there. She assumes it's just a local homeless man who has been seen there before. After hearing noises near the back wall Jade moves to see what's going on when she is attacted from behind, pushed and stumbles against empty spindles. Officer Fitzgerald and Bryce arrive at the location just in time to see someone jumping out a broken window.
The police officer gives chase as Bryce enters the structure to find Jade. From this point on Jade and Bryce face much danger and their time together jogs their former feelings for each other.
Someone is trying to kill Jade and Bryce is determined to keep her safe. These two characters find they must face their pasts to move on to their future. I enjoyed reading along as these characters grew and found their strength in loving each other. Lynette Eason is a very talented author and I really enjoyed this story.
Book Info:

Publication: December 1st 2019 | Love Inspired Suspense |
A man from her past is back—
to help her solve a holiday murder case.
A friend is missing and presumed dead, and detective Jade Hollis is determined to track down the killer. To do that she must team up with private investigator Bryce Kingsley—who doesn't know he is the father of her child. But she'll have to put personal secrets aside because the killer will strike again to keep the truth from being exposed.