Holiday Sparks by Taryn Elliott is sure to put a spark and sizzle in your holiday reading this season.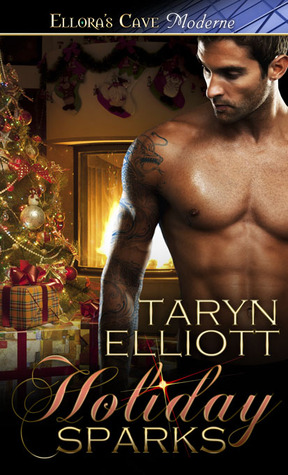 Darcy Tucker a.k.a Ms. Scrooge can't stand Christmas or anything festive. Her family never quite celebrated Christmas growing up and her job as a lead supervisor at a department store pretty much sealed the deal.
Ben Hartley is Christmas personified; when Darcy comes homes after a rather rough and disastrous day at work to find her tenant Ben has turned their duplex into a neighborhood Christmas sound and light show, she totally flips out and let's loose on Ben.
But when Darcy's holiday display at the department store is demolished putting her promotion in jeopardy she decides to eat humble pie and ask Ben for help. As Ben and Darcy are forced to spend time together decorating the store, the sparks between them really start to fly. That KISS, oh that kiss under the Christmas tree is one Smokin' Hot, toe curling kiss! that jump starts their relationship in high gear 🙂
I really liked all the secondary characters in this book, especially the interactions between Ben and his niece. Might I say Ben was such a hottie! I really enjoy Taryn's writing; the dialogues are always witty, snarky and fun to read and the stories smexy.
Holiday Sparks is one steamy hot holiday romance, a perfect read to warm you up on a cold winter's day!
Rating: