In Home to Me (Canyon Creek #2) by Catherine Bybee, Santa Clarita, California has become Erin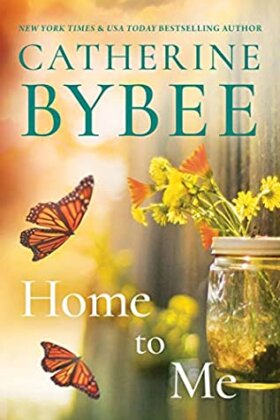 Fleming's sanctuary after living a hellish life under the thumb of her ex. Not only is the location gorgeous and the perfect place to hideaway in a cute little guesthouse, but she's met some rather lovely people. Including her landlord Parker Sinclair. Now that Parker has fallen in love with Colin Hudson, both he and his hunky firefighter brother Matt hang around the Sinclair ranch all the time. Something that kind of freaks Erin out, if she's being honest. Because as leery as she is of men now, she has the feeling that Matt's one of the good guys. And with their intense chemistry, she could too easily fall for him–which could put them all in harm's way.
"I want you to touch every part of my body," he whispered. "And I want to worship every inch of yours."
Yup…her heart couldn't beat faster without needing medical attention.
Being a firefighter means that Matt is typically the guy who runs to the rescue when things get tough. And gets a shot of adrenaline while doing so. But he never really thought about being the white knight when it comes to his love life. As soon as Matt feels his attraction to lovely Erin and recognizes the signs that she's been abused in some way, though, those protective instincts come roaring to the forefront. And before long, Matt is finding any way possible to show Erin that what they have between them is the start of something special. Just as they're finding their footing as a new couple, her past catches up with her. With Erin scared and ready to bolt, Matt must prove he can keep her safe as the danger becomes all too real.
'Yeah, she had baggage. Luggage big enough and full enough to make you pay double for it to be loaded onto a plane. But she kissed like an angel that needed someone else's wings to fold her in and keep her safe.'
Talk about an emotional journey! Home to Me pulled everything I love about Catherine Bybee's writing into one novel: snappy dialogue, complicated backgrounds, new beginnings, perfectly imperfect characters, and oh so satisfying romance.
"You're the strongest woman I've ever met."
"A strong woman wouldn't have allowed herself to be used the way I did."
"No, babe. Strong people find themselves in hard situations all the time. How you deal with and get out of them is what really shows your power."
I'm loving how much the setting of Santa Clarita gives Catherine Bybee to work with and how well the awesome cast she created for this Canyon Creek series meshes together. I was invested in each of their personal stories right away. Especially with our heroine Erin. You can read her story as a standalone but if you've read book one, My Way to You, then you already know she suffered some form of abuse and is basically in hiding. I won't sugarcoat it: the heartbreaking details about Erin's former life will be tough for some readers. As will one final scene at the end of this book. But to see how Erin takes charge of the narrative and stands strong? Now that's the type of empowering storyline I cherish–something that I think Bybee excels at.
Matt, our hero, well first off he's a firefighter. I mean…how can you not swoon a little, right? But to find out that he was every bit as dreamy, upstanding, protective, sexy, and kind as he appeared in book one was even more swoon-worthy to me. Matt was everything Erin needed in her life. As was his steadfast brother Colin and Parker, Colin's kickass girlfriend (and Erin's landlord). What a terrific mix of personalities and down-to-earth people. The teasing between them all was a hoot. Particularly Matt drawing Erin out of her shell, flirting, building their connection and proving he could be trusted. Their slow burn romance just hit me right in the feels and didn't let go.
A novel about getting rid of the past and starting over, Home to Me was dramatic, utterly heartfelt, and had an incredibly beautiful romance that felt so right it seemed like it was fated. Highly recommended.
Book Info:

Publication: Expected publication: July 14th 2020 | Montlake | Canyon Creek #2
A brave woman's flight from the past leads her toward new love in a novel about courage, hope, and second chances by Catherine Bybee, New York Times bestselling author of My Way to You.
After Erin Fleming escapes from her controlling and abusive ex, she finds refuge in the heart of Santa Clarita, California. Eager to start over, she has a new name, a new look, and a new career. Settled into a private guesthouse, Erin can breathe free. Far from the shadows she's outrun, Erin is finally learning to live for herself. Her new unexpected friendship with her landlord starts to crack open the armor Erin's enclosed herself in. But it's Matt who speeds up the pace of Erin's heart and makes her wish for things she believes she can never have.
Matt Hudson, a firefighter in one of California's wildfire epicenters, has a passion for danger. He lives for the adrenaline rush his profession awards him. But his protective instincts take over once Matt meets Erin. So does an attraction he can't deny. Above all else, he's determined to prove to Erin that she can trust him. As the sparks between them ignite, so does a real-world danger. Erin's past is not letting go. It's just in hiding.
Before Erin's ex finds her, she and Matt have to find him. And finally put an end to everything that's becoming a threat to their love, and to Erin's life.