In Home to Whiskey Creek (Whiskey Creek #4) by Brenda Novak, Addy Davies left Whiskey Creek over a decade ago with no plans to move back. Not after she was brutally attacked by a bunch of seniors on their graduation night when she was a high school sophomore. She's had to deal with the effects of that night ever since. Her grandmother is getting more and more frail and having a rough time staying on top of her restaurant business in Whiskey Creek, so Addy moves in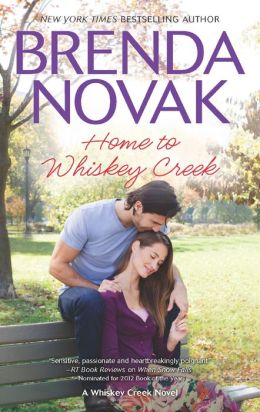 with Milly to help her out. After all, her grandmother was her sole supporter growing up. Now that she's back in town she hopes she can steer clear of the men who made her life a living hell, but it seems at least one of them has noticed her arrival. Addy is abducted in the middle of the night and left battered in one of the old mines, which was where she was attacked in high school. A cyclist on a nearby trail hears her cries for help and manages to eventually rescue her. Her hero turns out to be none other than her old high school crush, Noah Rackham, who is also the twin brother of one of her attackers. Noah is obviously concerned for Addy and tries to talk her into going to the hospital or at least filing a police report but she refuses. She gives him excuse after excuse until he finally relents. He focuses instead on trying to find out more about Addy as he drives her home but she only gives him basic details, including that she lived in Whiskey Creek years ago and went to the same high school a few years behind him.
"Love makes you weak, Addy thought. She'd always believed it. The person who loved was the person who suffered."
Milly had contacted the police while Addy was in the mine so unfortunately she had to file a report. Considering she had never told anyone in town, including her grandmother, about the attack fifteen years ago, she tries to keep things vague. Her abductor threatened her life if she revealed any information to anyone about that fateful night and said they would be watching her. Noah visits a few times, checking on how she's doing and whether there is any lead on who could have done this to her. Addy isn't sure if she can trust him and wonders if he knows anything about his brother's past. She can't help still feeling a strong attraction to Noah and against her better judgement feels herself falling for him. He treats her better than any other man ever has in her life. They finally both admit the connection they have together and see each other quietly, under Addy's request. Whoever is watching her, though, takes notice of their relationship and begins to threaten her again. She knows she must push Noah away and distance herself from him so he'll back off and hopefully they can both be safe. But he digs his heels in and won't let her throw their relationship away. As her attackers become more paranoid and details start to emerge about the past, the town is thrown into an uproar and lines are drawn. Will Noah believe Addy's recount of the night fifteen years ago? Or will she lose the most important man in her life?
"Why did you really come?"
Part of him wanted to level with her. To tell her he was confused, torn, even angry. But he couldn't think of how to say it without including Baxter, and when tears of frustration came more readily than words, he did what he had to in order to distract her before she could realize he was standing on an emotional precipice.
"Because I want you," he whispered, and he knew she'd have to believe it because, in spite of everything else, that was most definitely true.
Pro cyclist Noah Rackham never expected to have to rescue someone from the old mines outside town when he went on a trail ride that afternoon. Once he pulls the woman to safety, he's shocked at her condition and that such a thing would happen in a small town like Whiskey Creek. He can't seem to talk her into going to the authorities or getting checked out at the hospital. She's obviously been through a traumatic experience and is leery of him. He eventually gets Addy's name and a few more details about herself growing up in town with her grandmother, who he knows and loves. He takes her back to Milly's but even after she's safe at home, he can't help wondering how she's doing and fearing for her safety. Noah can't understand his need to protect her and how he can feel drawn to Addy after just meeting her. He checks in on her a few times and with every visit, he can't deny his desire to get much closer to her, but Addy is reluctant to his charm. He can see she feels the same pull towards him that he feels for her, yet she keeps him at arms length. When he realizes her resistance to date him may stem from something in her past, he starts to do some investigating into her ex-husband and previous relationships. He sets into motion a chain of events that will completely unravel his and Addy's lives and has to determine who to believe once the truth comes out.
Brenda Novak has written a wonderful new addition to the Whiskey Creek series. There was just something about Addy and Noah's story that clicked with me and I simply couldn't read it fast enough. The plot is intense with a lot of twists and is rich with every emotion imaginable. My heart broke for Addy and her situation but I marveled over her strength and ability to finally trust again. Noah certainly had struggles of his own with reconciling his brother's past and also with his best friend Baxter's life changing admission. Brenda's characters always have so many layers of emotions and issues in her stories that I'm an emotional wreck by the end…but in a good way. Be ready to feel angry, to laugh, to cry and feel vindicated when you read this one. Highly recommended!
Book Info

Release date: July 30, 2013 | Series: Whiskey Creek (Book 4)
RT READER'S CHOICE WINNERSometimes home is the refuge you need—and sometimes it isn't
Adelaide Davies, who's been living in Sacramento, returns to Whiskey Creek, the place she once called home. She's there to take care of her aging grandmother and to help with Gran's restaurant, Just Like Mom's. But Adelaide isn't happy to be back. There are too many people here she'd rather avoid, people who were involved in that terrible June night fifteen years ago.
Ever since the graduation party that changed her life, she's wanted to go to the police and make sure the boys responsible—men now—are punished. But she can't, not without revealing an even darker secret. So it's better to pretend….
Noah Rackham, popular, attractive, successful, is shocked when Adelaide won't have anything to do with him. He has no idea that his very presence reminds her of something she'd rather forget. He only knows that he's finally met a woman he could love.