In How to Resist a Heartbreaker by Louisa George, Max Maitland has just finished the toughest surgery ever. Not only did he operate on his nephew, he had to operate on his estranged brother too, a double operation to use his brother's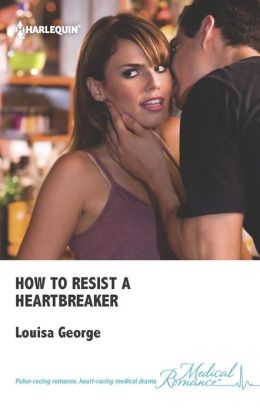 kidney to save his nephew's life. And like always after the high adrenaline of surgery, he needs an outlet to release his pent up energy, and he has gone to his favorite bar to find it.
Nurse Gabby Radley is at the bar doing her annual penance, and she wants to be left in peace. Unfortunately, Max Maitland has other thoughts and won't leave her to her mojitos alone. He is charming and funny but she was warned about him during her orientation and first day at the hospital. She knows better than to do have anything with a playboy or a co-worker. But she downed one mojito too many…
Now Gabby will do anything to keep what they had to a one-night stand. Yet again, Max has other ideas, and he will do everything in his power to try and convince her otherwise. What Max doesn't expect is the need he has to be close to Gabby and to keep her happy. Although, she insists on keeping things as friends with benefits, he feels like he can tell her anything even things he hasn't told Mitchell, but it seems like she is hiding something from him.
Both Max and Gabby had tough childhoods, but the truth behind their feeling will be put to the test when they have to face the stuff they have been hiding from everyone, sometimes even themselves.
A great ending to this duet, don't miss How to Resist a Heartbreaker by Louisa George, it keeps you hooked from beginning to end, but make sure you have a tissue handy for this one will break your heart only to heal it in the end.
Book Info

Publisher: Harlequin Medical Romances (July 1, 2013)
Who can resist a bad-boy surgeon? 
Nurse Gabby Radley knows exactly the type of man that supersexy Mr. Max Maitland is—hotshot surgeon with no strings attached. So, attempting to balance a fling, working together and Gabby's runaway past? It all points toward a relationship with a seriously complicated health warning!
The only problem is, giving in to their sizzling chemistry is one thing, but trusting him with her heart is a whole different story….