Life of the Party by Kate Davies is the third book in the Most Likely To series. Like the ones before it does not disappoint in any way, it is hot, sweet and fun.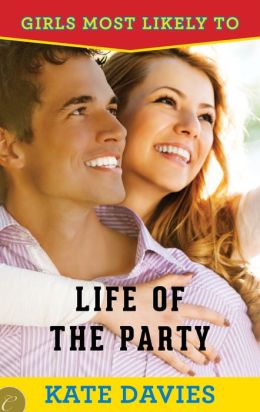 Tess Bonham was the go to party girl in high school, but not in the usual way, she has always been the party planner and that has not changed in ten years. Now she is planning the class reunion with no help at all. The so-called committee left her to do everything but of course they will take all the credit. But planning the reunion weekend will leave her no time to enjoy the party herself, not that she minds, at first.
Hotelier Jeremy Wright has wanted Tess since he first arrived to become the new manager of the hotel. They have been working together for quite some time but he is afraid that due to his ancestry, like the women in his past, he is only good to bed but not good enough to be with. His last girlfriend went so far as to be ashamed of him and never wanted to introduce him to anyone. He knows that Tess is different, but before she will consider anything with him he must first convince her to look beyond their very small age difference. But no matter how forward he is in his flirting she doesn't seem to read the signals correctly. When Jeremy can wait no longer he decides to act if he is to make Tess understand what he wants from her.
Tess has been attracted to Jeremy too but she always thought that what she felt was one-sided and that she was reading more into his friendly nature. But when Jeremy offers his help with all the organizing of the reunion followed by a very hot kiss, well there is no way that she is reading a kiss wrong. Now she has to decide how far she will take the attraction and chemistry that has been burning inside of her for months now.
Tess and Jeremy will have a very hot beginning, but unless they open themselves up and reveal their hidden insecurities, some actions may lead to wrong interpretations that could end what could truly be a deep and meaningful relationship.
If you have read the previous books in this series you may remember the vibes that Tess and Jeremy were giving off in each one, well here you will see what was truly happening in the kitchen and how everything started.
Rating:

Publisher: Carina Press (July 8, 2013)
Book three of the Girls Most Likely to…
In high school, Tess Bonham was the go-to for party planning. So it's no surprise that she's built that talent into a successful party planning business. Tess loves her job—most of the time. Planning her own ten-year reunion weekend promises to be the highlight of her career, even if making it perfect for her former classmates means she won't actually have time to enjoy it herself.
Hotelier Jeremy Wright has wanted Tess for months, and he's tired of watching her sacrifice her social life to her overbooked calendar. So when she's short-staffed, Jeremy jumps at the chance to help out with her reunion during the day—if Tess surrenders the nights to him. He's got plans for a private party, and she's the guest of honor…
Tess should say no. But she really, really wants to say yes. Spending time with Jeremy reminds her just how much fun life can be. But she's not sure she can be "just friends" once she knows how amazing the benefits are…
22,000 words