In Watching You (Hollywood Heat #1) by Leslie A. Kelly, Reece Winchester is a man that knows what he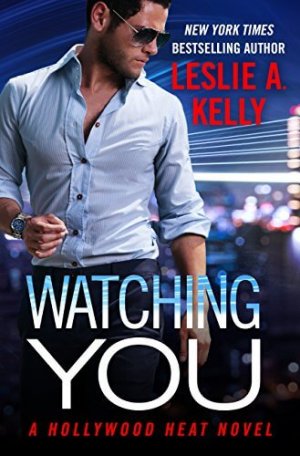 wants and what he wants is Jessica Jensen the moment he lays eyes on her. But with dark secrets in his past and a fierce determination to see those secrets stay buried, Reece knows better than to bring anyone into his world. Still, there's no way he can stay away from the woman that tempts him more than any woman ever has. However, someone is determined to see Reece pay for the dark family secrets he's done everything he can to keep hidden and as the danger closes in, will Reece be able to keep Jessica safe or will they lose their shot at happy ever after?
'I'm not one of your Hollywood bimbos who will bend over when say you want to insert tab A into slot B."
"I never said anything about tabs and slots, Miss Jensen," he said, edging closer, crowding her. He swallowed, his throat working, and she saw the tension in his form, as if he was holding back a storm of raging want. "I've been obsessing over you for weeks. I thought I could wait for you, get to know you. But the truth is, I can't."
It took me several days to read this book in the way I'd start it and then need to put it down because I wasn't all that into the main characters at first. The hero is quite arrogant, controlling and comes off as a stalker in the beginning while the heroine is indecisive and doesn't know what she wants when it comes to the hero. At times, she wants him to stay away while at others she can't seem to get enough of him. Really, she was frustrating and had me wanting to pick petals off a daisy and do that whole 'she wants him, she wants him not, she wants him, she wants him not' routine until I got to the last petal to discover what she should do.
However, in saying that, even though I wasn't all that interested in the main characters, I loved the whole suspense part of this story and the secondary characters in Reece's brothers, and those are the reasons I did finish this book instead of leaving it unfinished, which is what I was leaning towards doing at the start of the fifth chapter. Moreover, the dialogue was intense due to the main characters back stories, especially that of the hero, because his dark family secrets are coming back to bite him so to speak, yet there was also some playful banter that had me liking how these two help each other through tough times. Will the person out for Reece get their revenge or is it not just Reece's past that is coming after he and Jessica? Will Reece discover who is targeting him before it's too late? Is it the heroine's ex that is causing trouble for her? How far is the person out for revenge willing to go to make Reece pay?
"You are a director. So who are you playing?"
"Spoiled, rich jerk?"
A twinkle in her eye, she replied, "I thought this was fictional."
He shook his head. "Jesus, woman, direct hit. Who do you think I should play?"
"Spoiled, rich a**hole?"
Man, she was good. "A double whammy. Three times and I'll be lying dead on the floor."
As for the main characters, they did win me over in the end, but it was too little too late to give this story any more stars than I've chosen. The hero being so protective of Jessica and the heroine's resilience when it came to the danger they face had me intrigued to see whether they'd survive and whether the hero could keep Jessica safe seeing as she seems to be the one in more danger by everything that happens to her. Will Jessica decide that being with Reece is good for her or will she walk away from him?
Overall, this book turned out to be an all right read, considering I was thinking about giving up on it, but I'm glad that I didn't. Because even though I wasn't feeling this couple's chemistry in the beginning with the way the hero will stop at nothing to get what he wants, I did find their connection grow stronger the more I read, especially once the heroine realizes how much of a jerk the hero is and that he's used to getting what he wants. As for the romance between this pair it was hot and exciting, but it was the ending that I really liked because it had me on the edge-of-my-seat and concerned for the main characters, but had me liking how everything works out for the best, as family secrets are exposed and had me wanting to cry for Reece because of what happened to his late sister and the reason he would do anything to keep his family safe. However, it was the epilogue that wrapped this story up nicely, as Reece is finally ready to confess all to his family. Will they take the news well? Only by reading the next book will readers possibly find out. I would recommend Watching You by Leslie A. Kelly, if you enjoy romantic suspense, the opposites attract trope, or books by authors Susan Stoker, Cora Brent, Kaylea Cross and Laura Kaye.

Book Info: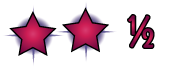 Publication: March 13th, 2018 | Forever Yours | Hollywood Heat #1
In the first book of a thrilling new romantic suspense trilogy, USA Today bestselling author Leslie A. Kelly shows just how hot – and how dangerous – Hollywood can be.
In the shadows, someone is always watching
Aspiring screenwriter Jessica Jensen grew up on movies starring heartthrob Reece Winchester, the eldest brother of a Hollywood dynasty. She never thought she'd meet the man in person, though. Actor, director, millionaire, and gorgeous mystery man-he's every woman's fantasy.
Reece wants Jessica the moment he sees her, and he's a man who always gets what he wants. At first he was only after a night in her bed, but as he comes to know the smart, confident woman beneath the stunning exterior, he realizes once will never be enough.
Unfortunately, Jessica's real-life Cinderella story is about to take a deadly turn…
Reece's world is filled with fierce ambition and dark family secrets the Winchesters desperately want to hide. But he and his brothers aren't the only ones who know those secrets. Someone else is out there, waiting to strike. Waiting-and always watching.
When danger finally steps out of the shadows, Reece will have to face his past. And Jessica will have to decide just how far she can trust the man she loves with her heart…and her life.