Hooked On You by Cathryn Fox: Kira finds herself in the small fishing town of Lunenburg, Nova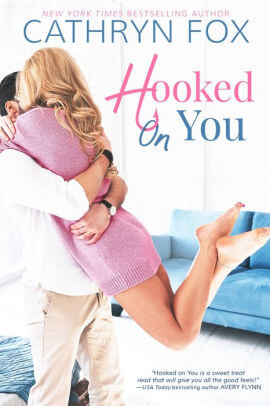 Scotia to sell her late grandmother's B&B. On arriving she finds the cute little town of her childhood has some rather eccentric residents, take for example Eddy the crazy horse who almost ran her over. After being saved from death by horse Kira invites the dashing Nate, who she assumes is a regular lobster fisherman to dinner as her way if saying thank you, never mind the fact that she can hardly cook.
"Runaway horses, lobster for currency, and a blind a cow with a crush." And this has become my life. Is it strange that I kind of like it? Yeah, probably."
Hooked fisheries C.E.O Nate has been in town for awhile now getting ready to set up a new processing factory to bring in new jobs to the small town and as away to make amends with the fishing community for the way his father has mistreated them in the past. To say he is surprised to find the kitchen filled with smoke at the B&B he has been staying at would be something, but ass in the shock of seeing the cute girl he just saved rushing in wearing nothing g but an oversized t-shirt and Nate realises he might be in store for more than he bargained for.
"I can't say as I've ever met anyone quite like her before. Cute, quirky, with a sense of humor. The perfect trifecta."
Once Kira realizes that her beloved Grams B&B has been running on the honour system from the time if her passing, you can bet that she was not only confused but more surprised by the makeshift family of fishermen and women that all adored her Grams. Torn between selling the place like her mother has asked and wanting to stay with this band of misfits who have become like the family she has always craved, Kira finds herself unsure what to do, adding to this confusion are her growing feelings for lobster fisherman and cow whisperer Nate.
This was my first book by Fox and I have to say I am keen to see what else she has to offer. I was hooked from the very beginning, Kira and Nate's story was the perfect read just to get lost in and come away with a warm fuzzy feeling. It was very cute to see mathematician Kira come out of her shell and bond with her honorary brothers and find her tribe. I absolutely fell in love with Nate, however at one stage I wanted to hit him with a lobster, thankfully he got his act together. What really won my heart was Bridget, the blind cow and her love affair with Nate.
"Cock blocked by a blind cow," I murmur, and Kira laughs. "Now how often does a guy get to say that in his life?"
Hooked On You is one of my new favourite novels of 2020, it was such a fun read. I finished it in a day, it was that good I could not put it down. I highly recommend this novel, you will just fall in love with this quirky town and all their residents.
Book Info:

Publication: April 27th 2020 | Entangled: Amara |
"Hooked on You is a sweet treat read that will give you all the good feels!" – USA Today and WSJ bestselling author Avery Flynn
I'm a bookworm, a mathematician, not the kind of girl a hot lobster fisherman would notice.
Until he did.
I'm not in small town Nova Scotia to hook up. I'm here to settle my grandmother's estate and sell the B&B, which I soon discover has been overrun with seasonal fisherman and operated on the honor system. The hard-core fishing folks become an instant family––the one I never had. Then there's the blind pet cow, who has a crush on my hot fisherman, Nate. Okay, technically he's not mine. I have no desire to get reeled in.
Until I do.
Soon, the little town grows on me, and the fisherman? It's not long until I take the bait and we're playing house at the B&B. Things are looking up.
Until they aren't.
Rumors about a new plant and jobs being in jeopardy start swirling around town like a nor'easter, and all the signs point to my guy being behind the scandal. Should I give him enough line to play it out and learn his true intentions, or cut and run before I'm hooked?