Hot Response by Shannon Stacey returns readers to firehouse of Boston's Engine 59 and Ladder 37.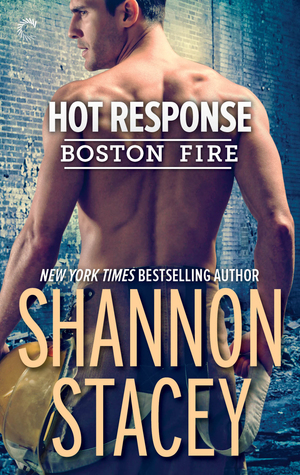 Firefighter Gavin Boudreau is interested in EMT Cait Tasker. Cait likes Gavin, however, she has a lot of home issues with her mother and younger brother. The more time she spends with Gavin, the more she struggles to balance her home life. Will she be able to finally put herself before her family, or will Gavin be left behind?
I liked Gavin. He's funny but serious when it comes to his job. It was cute how he wanted to ask Cait out but it comes out wrong because she flusters him. I also liked how he wasn't afriad to tell Cait the truth and call her out on her family situation, even if Cait didn't want to hear it.
I found myself annoyed with Cait at times. I understood her need to help her mother and half-brother after the death of her stepfather, but after six months of putting her life on hold for them and tip-toeing around not to upset her mother, I felt she should have put her foot down. At that point she was just becoming an enabler, allowing her mother to wallow in her grief instead of trying to find a way to move on. When Gavin calls her out on it, she gets mad because she doesn't want to admit that maybe she's part of the problem.
It was amusing how the guys at the firehouse picked on Gavin for a certain Instagram photo that was posted of him staring at Cait, and how they tried to help him out with her by letting him know when she showed up at Kincaid's. It was clear that they're their own little family, looking out for one another even while giving each other a hard time.
This is the fourth book in the series, but it can be read as a standalone.
Hot Response is an enjoyable read about family, whether by blood or by choice, and learning to let go. If firefighters are your hero of choice, you won't want to miss this one.

Book Info:

Publication: April 24, 2018 | Carina Press | Boston Fire #4
Gavin Boudreau lives for the job, but he also believes in "work hard, play harder." As the youngest guy in Ladder 37, he figures he's got plenty of time before settling down becomes a priority. Soft, pretty women who aren't looking for promises are exactly his type, and he's comfortable with that. Working with a gorgeous EMT isn't going to change who he is.
The last thing Cait Tasker needs in her personal life is a firefighter whose challenges on-scene have been a thorn in her side from minute one. Her plate's too full for a man anyway. Back in her childhood home to help her family cope with an unexpected tragedy, she's got enough to handle without throwing a hot, testosterone-laden fireman into the mix.
As long days on the job lead to long nights together, Gavin and Cait will discover how far temptation can take them—and what happens when the one you thought was all wrong for you turns out to be the person you can't live without.