In The Innocent's One-Night Confession by Sara Craven, Alanna swore she'd remain a virgin until the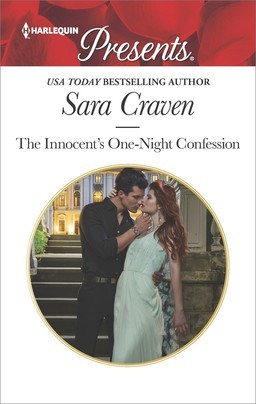 right man came along, but she couldn't resist Zandor's charm. However, instead of exploring their connection more, she fled. Never expecting she'd see him again, she can't believe the moment she comes face-to-face with him months later. Will Zandor be able to convince Alanna to take a chance on him, or will Alanna walk away from her chance at happiness again?
"So why don't I get us both a drink and take them on to the terrace for our own quiet chat? I think we should have one, don't you?"
She took a deep breath. "On the contrary, we have nothing to discuss," she said icily "And I don't drink any more – at least not alcohol. I'm sure I don't have to explain my reasons."
He said slowly, "Actually, yes, I think you do. That is if it relates in some way to our previous encounter. If you're implying you ended up in bed with me because you were drunk."
"Good guess." She clenched her shaking hands into fists at her sides. "And my first mistake. Fortunately not fatal."
When I got to the end of this book, I wondered to myself 'Where did Ms. Craven go wrong to make me want to give this book one of the lowest ratings I've ever given a story?' and the answer is the heroine. Her self-loathing of what she did in the past and her determination to deny what she classes a mistake was exasperating and so was her treatment of the hero. Really, there were times when I had to put this book down, but I liked that I didn't give up on it completely because I did like the hero's determination to win the heroine over. Will he get the girl? Will the heroine realize that Zandor is the right man for her before it's too late?
As for the dialogue, it was interesting at times because the heroine is in a fake relationship with the hero's cousin, which made me hope that the hero would challenge the relationship and go after what he wanted. However, it was also hard to handle because the heroine is extremely hard to like and continues to deny what she really wants – Zandor and keeps making wrong assumptions when it comes to his charming ways. Yet, in saying that, the hero had the opposite effect on me and I really liked him as he doesn't back down from the hard conversations, is a totally good guy because of what he did for the heroine when they first met and I liked that he's an oddity when it comes to his family. It seems he's not stuck-up like some of his family, especially his grandmother who continues to interfere in her children and grandchildren's lives with her meddling. Will someone finally speak out about the woman's snobbishness and her need to see certain members of her family end up with the people she has chosen for them?
He took her arm, steered her to the door and out into the shop. She tried to hang back. "Zandor – no. Please."
"You'll come with me," he said. "Even if I have to carry you – and provide the staff with another sensation."
"But where are you taking me?"
"Isn't it obvious?" They emerged onto the pavement, and he hailed a taxi. "We've wasted enough time, so we're going back to where it all began, and where it should have continued. You and me. Together – forever."
Overall, this story was full of stops and starts, so it took me a little longer to read than a Harlequin story usually takes, but I did end up finishing it. As for the chemistry between this couple, I wasn't feeling much of a connection between them in the beginning, but by the end I was glad they ended up together. Luckily, the heroine comes to her senses and finally figures out what she wanted when it to both her personal and professional lives. Fans of Heidi Rice, Penny Jordan, Cathy Williams and Robyn Donald may enjoy this story.
Book Info:

Publication: April 17th, 2018 | Harlequin Presents |
One night with Zandor marked Alanna as his… Now he's returned–to claim her forever!
Zandor awakened Alanna to an unknown sensuality! Overwhelmed by her response, she fled, never expecting to see him again. But when he shockingly reappears back in her life, Zandor's charisma reminds her of the heat they shared. And this time, she can't run from the sizzling intensity of their connection…