Hot-Shot Doc Comes to Town by Susan Carlisle: When big-city trauma doc Taylor Stiles a.k.a Mr. Speedy with a lead foot gets sentenced to two weeks community service he finds himself headed to a small town of Benton and a state funded medical facility miles from his city life and state of art medical facility.
Taylor lifted the large-for-his-age two-year-old boy up onto the metal exam table.Where in the world did you go to find a piece of medical office equipment from the 1950s?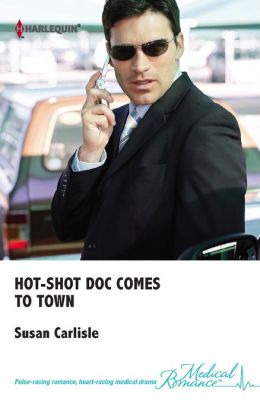 Shelby and her husband started the medical clinic in Benton, when Shelby's husband was killed in an accident she decided to carry on their plan and directed all her energies into keeping the clinic funded and open. The clinic is pretty much Shelby's whole life; so when Taylor breezes into town in his sports car and city attitude she wants to send him right back where he came from.
The minute I met you I knew you wouldn't be staying long."
He didn't understand why that remark annoyed him. He didn't like her thinking she knew him that well. "Why?"
"Well, let's see," she said with a sassy bob to her head, "car, clothes, attitude. All are a dead giveaway."
Benton brings back bad memories for Taylor, it reminds him too much of his childhood and growing up with a stigma; this is exactly the kind of town Taylor had run from as soon as he could get away as a teenager and he has no plans of sticking around this time either… no matter how delectable Dr. Shelby is.
I really liked both Shelby and Taylor's characters; while they were attracted to each other their romance was a gradual build up which worked well with the storyline. They both had to work through their insecurities and decide what was more important to them. Neither Shelby nor Taylor is perfect but they are perfect for each other. Taylor redeems himself beautifully at the end.
Susan Carlisle pens her romances beautifully, there's a lot of emotion and introspection involved but there is also a flirty lightness to it. Hot-Shot Doc Comes to Town is a book that I would recommend not only to medical fans but to anyone looking to curl up with an angst free romance about taking a chances and following your heart.
Rating:
Book Info: Publisher: Harlequin Medical Romances (February 1, 2013)
When big-city trauma doc Taylor Stiles swaps speeding tickets for community medicine, it brings back memories he's spent years running from. The only silver lining? Delectable local doctor Shelby Wayne! But Shelby deserves white picket fences and a family—something Taylor swore he'd never do… One look at the bad-boy doc and Shelby wants to send him straight back! Taylor is the last thing she needs, but everything she wants!