In How to Bake the Perfect Wedding Cake by Gina Henning, Lauren and Jack are planning their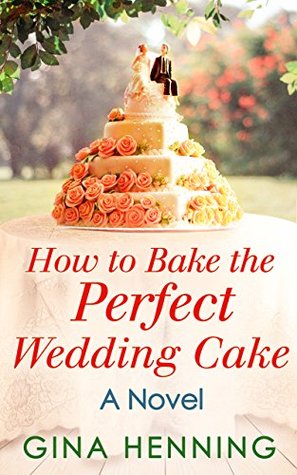 wedding, which is scheduled in three months. Nothing seems to be going right for Lauren: she can't decide between her sister and her best friend as her maid of honor, she can't decide on a wedding dress, she can't have her wedding at the location she originally wanted it, and she's dealing with being sexually harassed by a co-worker.
When Jack insists they bake their own wedding cake, Lauren loves the idea even though her mother and sister are against it.
"I don't know…don't you think we should just hire someone?"
"No, I want to bake it with you. I want to find the perfect wedding cake recipe and I want each whip of the batter and each layer of frosting to be with you."
I take a deep breath. "Wow, how could a girl turn that kind of offer down?"
I liked Lauren and Jack together. When Lauren panics or gets scared, Jack is a calming influence. He always wants to fix things, and Lauren lets him. While his strength makes her feel secure, it at times has her questioning her roll in their relationship.
He is the only one who can hold up our relationship. His strength is unsurpassed. And somehow I wonder about my own. Am I holding my own in this relationship?
Lauren is very indecisive, which makes her come across as weak. First she can't decide who to choose as her maid of honor, or her dress, or what to do about her work situation. She doesn't report the harassment, and when it escalates to the point she really should have gone to HR, she still doesn't because she worries about how people would perceive the situation. She spends a great deal of time worrying about the feelings of others instead of her own because she doesn't want to let anyone down. Jack is the only person who acknowledges this.
"You are not letting anyone down. We will get through this together. No matter what happens and what we go through, we will be stronger for it. Times will get tough but that's okay. That's life and there is no one else in the world that I would love to get through the difficult moments with than you." He kisses my head.
How to Bake the Perfect Wedding Cake by Gina Henning is the fourth book in the series, and while it can be read as a stand alone, I would recommend reading the other books first. Each story is a progression of their relationship. Not having read the previous books, I felt a little lost at times. I probably would have understood their relationship and some of the situations mentioned in this book better if I had read them.
How to Bake the Perfect Wedding Cake is a cute story. If you've read and enjoyed the other books in the series, you'll most likely enjoy this one as well.
Book Info:

Publication: September 25, 2015 | Carina | Home for the Holidays #4
After an explosive 4th of July, Lauren Hauser is glad to finally be home with gorgeous fiancé Jack by her side. With only three months to go till their wedding, Lauren needs to get planning. But she can't even choose a wedding dress, let alone a maid of honour!
And with her job drastically taking a turn for the worse, the wedding quickly approaching and a blast from the past causing problems, Lauren feels like she's losing the bridal battle.
At least baking their perfect wedding cake together is something she and Jack, as award-winning bakers, are excited about! But when a surprise wedding gift arrives earlier than expected, suddenly Lauren must take back control of her job, her life and her wedding – before she says 'I do'!