In Some Girls Do (Outback Heat #1) by Amy Andrews, Grief-stricken and deeply homesick, all Lacey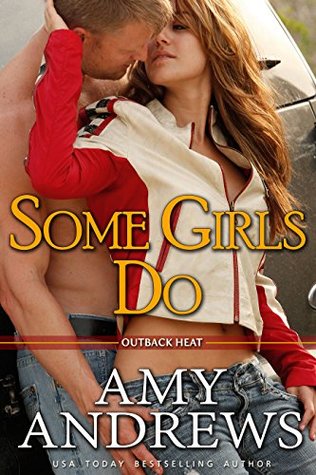 Weston wants is to move back home to Jumbuck Springs. But a promise her brothers made their mother right before she died makes it impossible. Lately though, lying to get what she wants has become Lacey's forte, and faking a pregnancy seems perfect to convince her brothers into allowing her to move back home, even if it is a tad impulsive.
Ever since his best friend asked him to keep an eye on his younger sister, Lacey, while in the city, ex-cop Cooper Grainger has done his best to watch out for her. Even if she did lie to him the first time they met. Finally though, after looking out for her the past couple of years, he's had enough of her impulsive behavior. If taking her back to her hometown helps her deal with her grief, then he'll do it. But soon after arriving in Jumbuck Springs, he's blindsided by the impetuous reason she uses to persuade her brothers to move home. Yet, he finds himself going along with it.
"How old are you?"
"Twenty-four." Lacey didn't hesitate. She just came right out with it as if she actually was that age. Instead of five years younger.
What a captivating, fast-paced, emotional, older brother's best friend story Ms. Andrews has penned involving a heroine struggling to deal with the death of her mother and determined to move back home, and a hero that always seems to have her back no matter what situations she manages to get herself into. The plot starts off brilliantly, and just keeps getting better as being home in Jumbuck Springs is good for Lacey.
"Would you have slept with me if you'd known?"
Coop recoiled as if she'd struck him. "Of course not!"
"Well then, wouldn't that have been a tragedy?"
The dialogue is a mix of emotional and intense due to both character's back stories, and the moment where Lacey discusses her need for returning home with her brothers brought tears to my eyes. She needed the support of the town's people, as well as her family after their mother passed. Instead of being separated from those she loves, because they thought they knew what's best for her. As for the banter between Cooper and Lacey, it was frolicsome and absolutely delightful. The first time they meet, Lacey seems like trouble with a capital T, but she's not. She's just determined to get what she wants.
I really liked both characters. Lacey is impulsive at the start, but as the story progresses she really begins to straighten herself out. Because her hometown is the one place where she feels she belongs, and can help her to continue pursuing her dreams with the aid of the community. As proven when she helps a bride-to-be with a dilemma to do with her dress. While Cooper, he's an all-round good guy. He cares so much about Lacey, and it shows through everything he does for her. In fact, they're really good for each other, as Lacey finds a way to help Cooper deal with the nightmares he suffers.
Lacey tantalizing and tempting Cooper so he'd give in to the undeniable chemistry between them made me grin. Their instant chemistry definitely spills over onto the pages in some very hot and nicely-detailed sex scenes. The one at the garage when the hero is showing Lacey how far along he's come in restoring her car was intense, because Lacey keeps pushing him with her words and feminine wiles until he's ready to explode.
Overall, I really liked this book, and I enjoyed the secondary characters. Although Lacey's brothers don't know how to give her the comfort she desperately seeks from them, their love for her is there in their emotions, their reactions, the way they handle things with Cooper. I am so looking forward to the next book of this series, and would recommend this story, if you're a reader that enjoys the older brother's best friend trope.
Book Info:

Publication: September 22nd, 2015 | Tule Publishing | Outback Heat #1
Fashion student Lacey Weston is desperate to leave the city and go home to Jumbuck Springs. Her three older brothers are adamant she's not. They made a death bed promise to their mother that Lacey would stay the distance at design school and Ethan, the oldest, takes this responsibility very seriously. But Lacey is deeply homesick and determined not to be dissuaded again. She's also impulsive enough to try anything – even faking a pregnancy.
Ex-cop turned mechanic, Cooper Grainger – one of Ethan's oldest friends – agrees to watch out for Lacey in the city even though he has a history with her he'd rather forget. How hard could it be, right? But a couple of years later, Coop is over pulling Lacey out of scrapes and cleaning up her messes as she tries to outrun her grief and sense of dislocation. He takes her back to Jumbuck Springs so she can persuade her brothers to let her come home. But things don't go according to plan. Before Coop knows it Lacey's pregnant and he's putting his hand up as the fake baby daddy, filling in for the town mechanic and moving in with her at the local pub.
Lacey is thrilled to have won a reprieve but nothing about the situation sits well with Coop. Least of all having sweet little Lacey Weston as his new roomie…