In Menagerie (Menagerie #1) by Rachel Vincent, Delilah Marlow's life changes forever on her twenty-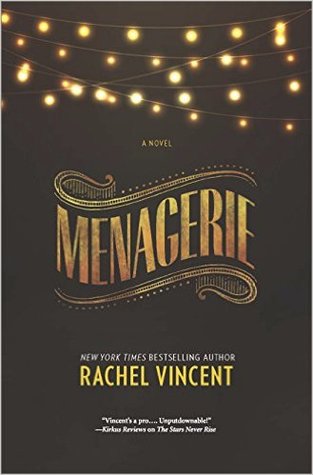 fifth birthday when she visits Metzger's Traveling Menagerie as a guest. After years of believing herself completely human, she is stunned to find a being filled with rage inside her who is looking to mete out justice on behalf of the cryptids being abused in the menagerie.
'Everything I'd ever owned had been taken. Everyone I'd ever known was gone. I'd become the property of Metzger's Traveling Menagerie.'
Now deemed a second-class citizen with no rights, Delilah is sold to Metzger's where she will have to perform for the crowds. Her handler Gallagher becomes the source of both her punishment and hope for redemption as he tries to bring her inner beast out to show the world. Between what Delilah endures at the hands of the other workers and what she sees her fellow captives endure, she knows she has to find a way to secure freedom for them all. But at what cost, considering she has lost everything already?
'So how could whatever kind of creature I was blend in well enough to hide itself not just from the rest of the world, but from me? How could I not know what I was?'
Imaginative doesn't even begin to describe this story. Author Rachel Vincent started off her new fantasy trilogy with a behind-the-scenes look at the atrocities, as well as the camaraderie, the cryptids faced while in Metzger's Traveling Menagerie.
To me, Menagerie really showed us the good, the bad and the ugly in regard to human nature. I know some readers will have a difficult time with the treatment the cryptids and others received at the hands of humans. It was grisly stuff: capture, enslavement, torture, sexual favors, other forms of abuse. But…it was also very eye-opening as to the way we perceive ourselves and others around us, as well as things we can easily take for granted, like food, shelter, possessions and freedom. Especially freedom.
While Delilah was the main character, the story was written from multiple POVs. It was a little difficult at first to figure out what was going on and who was who, but I liked being able to get inside so many character's heads to get a real sense of what they were up to. The viewpoints also helped as the story wore on to figure out who was a hindrance to the cryptid's safety.
The characters were fairly well developed and I'm sure everyone will have their favorites. Mine, aside from Delilah of course, was Eryx the minotaur. He was not at all what he seemed and I loved that! There were a lot of friendships and more that came into play over the course of the story, with Delilah and her handler Gallagher being the most important bond formed. Rachel Vincent did a great job building the tension between them and keeping us readers pondering just what Gallagher and Delilah truly were. I so did not see the truth of their natures coming until it was explained.
If you're a fan of darker fantasy novels with a strong plot and intriguing characters, Menagerie is just the book for you.
Book Info:

Published September 29th 2015 | by Harlequin MIRA | Menagerie #1
When Delilah Marlow visits a famous traveling carnival, Metzger's Menagerie, she is an ordinary woman in a not-quite-ordinary world. But under the macabre circus black-top, she discovers a fierce, sharp-clawed creature lurking just beneath her human veneer. Captured and put on exhibition, Delilah in her black swan burlesque costume is stripped of her worldly possessions, including her own name, as she's forced to "perform" in town after town.
But there is breathtaking beauty behind the seamy and grotesque reality of the carnival. Gallagher, her handler, is as kind as he is cryptic and strong. The other "attractions" — mermaids, minotaurs, gryphons and kelpies — are strange, yes, but they share a bond forged by the brutal realities of captivity. And as Delilah struggles for her freedom, and for her fellow menagerie, she'll discover a strength and a purpose she never knew existed.