How to Cross a Marquess by Jane Ashford  is the third book in the Way to a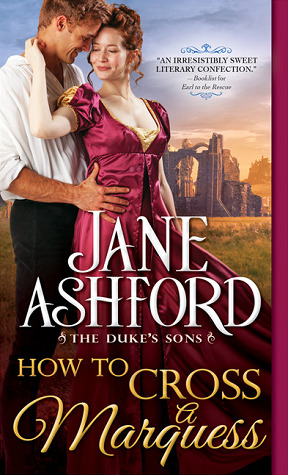 Lord's Heart series. I haven't read the first two books but it wasn't a problem since this book can be read as a stand-alone. This author is one of my favorites and this book was another great one!
The story was well written, fast past and held your attention all the way to the end. A lot of side characters were introduced and they made the book interesting and added drama to the story.
The prologue really sets up the story line for the series and this book for Roger, the Marquess of Chatton, and Fenella Fairclough. It introduces Author, the Earl of Macklin, who is an older gentleman that has experienced death of a loved one and he wants to help others that are experiencing the same.
Roger and Fenella grew up in the same neighborhood and when their parents tried to arrange a marriage between the two, Fenella runs to Scotland to be with her grandmother. Roger marries another woman but their marriage was not a happy one. When Fenella returns to the neighborhood to help care for her father, Roger is drawn to her but stays away since he is married. Roger's wife passes away and he feels guilty for not feeling sad for her loss.
Roger was a good man but had a hard time taking responsibility for his actions and not filtering his thoughts before speaking. Under her grandmother's care, Fenella grew into a strong independent woman. She was so caring and forgiving. She took good care of her father even though he always gave her a hard time. With a few nudges from the side characters, Fenella and Roger spend time together and discover their feelings for each other.
In order for Fenella and Roger to have their HEA they have to overcome family involvement and murder attempts.
This was such a great book and was so hard to put down! It has humor, drama, mystery, romance, intrigue, and a surprising ending. I can't wait to read the other books in the series.

Book Info:

Publication: August 27th 2019 | Sourcebooks Casablanca | The Way to a Lord's Heart #3
The Marquess of Chatton and his neighbor Fenella Fairclough have known each other all their lives. They refused to marry each other years ago when their parents demanded it, and they won't concede now―even if circumstances have brought these former enemies much closer than they ever could have anticipated…