The Russian's Pleasure Proposition by Joanne Walsh: The playboy and the shy country girl, could you get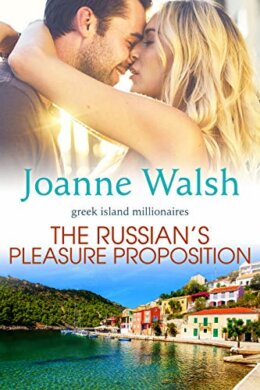 more cliché?
At least that's what Hannah Oliver thought when the Russian Rake kissed her. Then when he apologizes, she gets it. It must have been a dare or some weird bet, he could never want her. So why can't she stop dreaming about him?
Sergei Alkaev was tired of being the Russian Rake. He never really realized it but he must have been hurting others. Had it really taken someone finally saying no to him before he saw that? He had to back off and maybe think about finding a sweet relationship.
Sergei and Hannah have nothing in common and yet there is something there, but as they both fight their pasts and their reputations they have to find their future together or far far apart.
So this is hard. Sergei makes one hell of a hero if his character would have been more flushed out. Hannah might have as well, but again there was little written about her. I can picture Greece (totally as the island from Mamma Mia) but there is little written about the island where they actually are. It feels almost as if Ms. Walsh is dipping her toes into the story but is afraid to describe anything. It is not an easy read to get through as it is choppy. There are animals, bats and feral cats and kittens. There is a sense of true love, even if there aren't a lot of details or even the ability to do anything other than guess about the relationships at times. I wanted to like this I really did, but there just wasn't a way.
Book Info:

Publication: Published July 15th 2019 | Tule Publishing |
Hannah's excited to be working for Frankie Kontarinis's property company in the Greek island resort of Agia Kalamaros. And determined to impress her first client. Even if he's millionaire music mogul, Sergei Alkaev, who's well known as the Russian Rake, is a heartless playboy who changes girlfriends as often as his socks.
Tired of dating greedy, fickle women, Sergei's not looking for another relationship—until Hannah has him thinking again. But her opinion of him is that he's heartless, so how can he change her mind and persuade her to be his lover? When Hannah lets slip she's inexperienced, Sergei makes her a proposition: let him teach her about love-making until she's ready to find a man who will give her the happy-ever-after she deserves…