I Flipping Love You by Helena Hunting: Rian is really smart, sassy, independent, and trying to rebuild her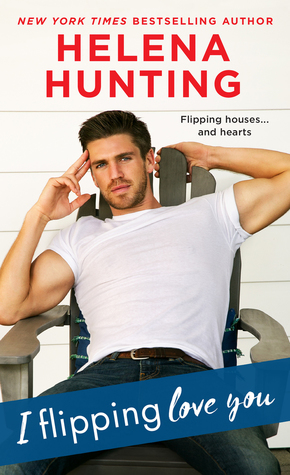 life with her twin through real estate in the Hamptons. They grew up quite wealthy until their parents lost it all and ran. They have plans to sell enough homes and use the commission to start flipping some. Rian is the more responsible twin and she's more cautious about dating.
Pierce is tired of being a lawyer. After making a mistake, he's more than happy to take some time off and help his brother with the rentals, renovations, and finding new homes to buy in the always desirable Hamptons. He's sexy, smart, charming, and loaded. Pierce isn't a player, but he's also not thinking of settling down anytime soon.
Rian and Pierce don't get off on the right foot. He confronts her after mistaking her for her twin, but he's happy to have the leverage to at least get her name and number. There's an immediate spark between them and he loves that she didn't back down and she gave just as good as she got. She's a challenge and he's more than happy to pursue her.
"Excuse me?" I can't imagine I heard that correctly. "Can you repeat that please?"
"We could negotiate the cost over drinks. Just a couple hours of your time during which I'm sure we can come to an amenable agreement."
"Are you asking me on a date?"
"We can call it that if you want."
Rian wants to stay away from any man who's as attractive as Pierce is as the attractive ones always seem to spell trouble. But she runs into him over and over within a pretty short time span and finds that their chemistry can't be ignored. Pierce loves to irritate her and get under her skin. It seems like they can only have a summer fling, but Pierce is determined to break down her walls.
"Is this a social call or a business call?"
"Both."
"It can't be both. It has to be one or the other."
"Why can't it be both?"
"You have twenty minutes until your window of opportunity closes."
I Flipping Love You is hilarious, entertaining, and hot as hell. Helena Hunting brings the banter and heat in another can't-put-this-down read. Ms. Hunting expanded the Shaking Up world with new, engaging characters and the return of Pierce's sister Amalie from Hooking Up. I Flipping Love You can be read as a standalone. Fans of Katy Evans, Christina Lauren, and Jessica Clare will enjoy I Flipping Love You.
Book Info:

Publication: May 29th 2018 | St. Martin's Paperbacks | Shacking Up #3
A new kind of love story about flipping houses, taking risks, and landing that special someone who's move-in ready…
SHE'S GOT CURB APPEAL
Rian Sutter grew up with the finer things in life. Spending summers in The Hamptons was a normal occurrence for her until her parents lost everything years ago. Now Rian and her sister are getting their life, and finances, back on track through real estate. Not only do they buy and sell houses to the rich and famous, but they finally have the capital to flip their very own beachfront property. But when she inadvertently catches the attention of a sexy stranger who snaps up every house from under her, all bets are off…
HE'S A FIXER UPPER
Pierce Whitfield doesn't normally demo kitchens, install dry wall, or tear apart a beautiful woman's dreams. He's just a down-on-his-luck lawyer who needed a break from the city and agreed to help his brother work on a few homes in the Hamptons. When he first meets Rian, the attraction is undeniable. But when they start competing for the same pieces of prime real estate, the early sparks turn into full-blown fireworks. Can these passionate rivals turn up the heat on their budding romance—without burning down the house?
I FLIPPING LOVE YOU, set in the Shacking Up world, follows two people, both working in real estate, who find themselves vying for the same properties in the Hamptons, leading to a sometimes-not-so-friendly competition.