In Surrender to the Ruthless Billionaire by Louise Fuller, Luis can't believe his luck the night he hits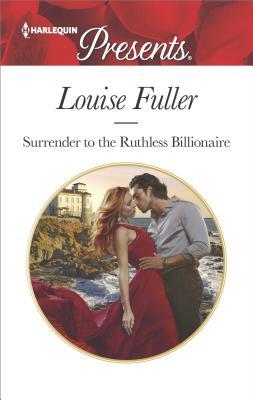 town to spend time with his parents until he discovers the woman he spent an incredible night with is the same woman that has come to take his family's photographs. Believing she has an ulterior motive for coming into his life, he isn't afraid to accuse her. However, when he realizes his mistake, will he be able to make things right between them or will Luis lose his chance at happy ever after with the woman that's captured his attention more than any other woman ever has?
His voice cold, and clipped with a fury he didn't fully understand, he shrugged his arms into his jacket. "You were taking a selfie in the middle of a nightclub. You weren't concentrating. And that's how accidents happen."
He watched her eyes darken to the colour of burnt sugar, her face stiffening with shock and then a fury that doused his. "Well, don't worry – next time I spill a drink all over you I'll make sure I do it on purpose."
What an interesting and entertaining story Ms. Fuller has penned in this story where there's plenty of tension between the main characters that leads to some wonderful romantic moments; emotions run high because of the main characters back stories, as both have been through so much with the heroine's father being a jerk and the hero living with the guilt of what happened to his brother; and the dialogue was compelling, as the hero struggles to deal with the heroine's presence in his life again after what they both thought would be a one-night stand. However, it was from the moment the hero and heroine come face-to-face for the first time where things get really interesting in this book, as Luis is a complete jerk. Luckily though, the heroine isn't fazed by his rudeness too much, which is proven by what she does for him.
"Are you all right, my dear? You look pale."
"I'm fine." She smiled stiffly. "Too much coffee, I'm afraid. I should probably try decaffeinated, but it's so disgusting. I prefer a simple espresso – Arabica bean, black, no sugar."
Augusta beamed at her. "Ah, a coffee connoisseur. I'm trying to cut back too, but it's hard when the alternatives are such poor substitutes."
Cristina nodded , and then, sensing Luis's cool, dismissive gaze, she felt a rush of anger. "I agree. I hate things that aren't what they appear to be."
With the main characters, I really liked the heroine. She's feisty when time calls for her to be, especially when the hero throws out his accusations. She's also resilient and has been through so much and deserves the opportunity she has been given in taking the family photographs of Luis's family. Will she be able to help bring Luis together with his family again? Will she help Luis finally overcome his demons in hopes he'll return home? While the hero, he's successful, brilliant, confident, smart and I liked how determined he was to win over the heroine once he realizes that he's in the wrong. I also liked the challenge the heroine provides for him because he's a powerful man that isn't used to many people standing up to him when he's in the wrong.
"For the last time – I didn't know who you were –"
"And I didn't know who you were." His eyes met hers, dark grey with contempt and retribution. "But I do now. I know exactly what you are. You're a cold-hearted, self-serving parasite."
She could hardly breathe. "And you're a phony. A fake. A fraud. Sneaking around, playing at being a biker, when really you're a CEO—"
"I was not sneaking."
"Oh, really?" She snarled. "Is that why your mother thought you flew in that morning? Why your father has no idea you ride a motorbike?"
Overall, Ms. Fuller has delivered a really good read in this book where the ending had me loving what the hero does for the heroine that gets her to finally realize how she feels and do something about helping the pair find their way back to each other. Will Cristina be able to make things right with the hero? I would recommend Surrender to the Ruthless Billionaire by Louise Fuller, if you enjoy the enemy to lovers trope, the mysterious strangers trope, or books by authors Carole Mortimer, Melanie Milburne, Heidi Rice and Dani Collins.

Book Info:

Publication: April 17th, 2018 | Harlequin Presents |
Luis Osorio wants two things: Cristina's truth—and her body!
Life has taught billionaire Luis that everyone has an ulterior motive. And when the beautiful stranger he spent one scorching night with reveals herself as his famous family's new photographer, alarm bells start ringing! He whisks Cristina away to his island fortress, determined to isolate her and uncover the truth. Only to realise he's rekindled a desire from which there is no escape!