In The Greatest Risk (Honey #3) by Kristen Ashley, The scene at The Honey Club has somehow grown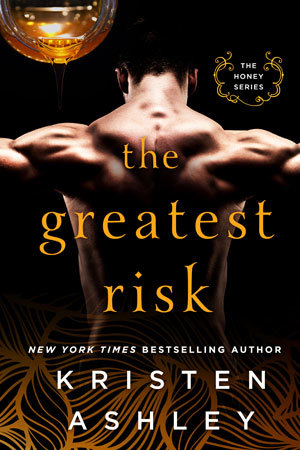 stale for Domme Mistress Sixx. And she blames her never ending attraction to Stellan Lange, who is a Dom at the club. While she's just about ready to throw down the gauntlet and challenge him to see where their fiery chemistry takes them physically, Stellan surprises Sixx with his own plan for them to get to know each other–intimately. Their peers at The Honey probably think they're crazy to get involved, considering they are both well known dominants on the scene. But Sixx can only imagine how much fun and naughtiness they can get up to when they put their creative minds together. So long as it doesn't get too emotional and Stellan doesn't dig into her past. Then it's game over.
'Sixx was used to taking risks. She did not calculate them. She did not move through them cautiously. She met them head on.
However now this was happening, and since it was, she knew innately this was the greatest risk of all.'
Stellan has been captivated for quite some time with Sixx, even if he tried to keep his interest under wraps until just the right moment. That time is now, with her at a standstill in her life at The Honey and in her career. Stellan loves a challenge and he's sure Sixx will be one of the biggest ones he's faced in his life–but will also be the most rewarding. But getting her to open up and share her background with him, her dreams and her fears, might prove to be too much for Stellan to overcome. He knows whether he goes too slow or too fast in getting to know her, Sixx is a flight risk. So he has to decide if he should just go all in and lay everything out on the table for her to decide, or should he take his time and hope his feisty woman will learn to trust him more and more.
"You endured a life filled with shit and you forged your way through it for the express purpose to be right where you are right now. I can have any woman I want. But the only one I want is the one that was made for me."
Absolutely. Epic. But with two dynamic characters like Mistress Sixx and Master Stellan *finally* getting together, how could The Greatest Risk be anything but outrageous and erotic as all get out, right?
"Thank you," she whispered.
"For what?" he asked.
"For thinking I deserve you."
Kristen Ashley writes some of the best, most well-rounded, multidimensional characters I've read in contemporary/erotic romance. And she isn't afraid to get down to the nitty-gritty of what makes each character tick, exploring some darker themes like she did with both Sixx and Stellan. Learning their backgrounds tore my heart out and I will warn that it's not for the squeamish, dealing with suicide, murder, drugs, alcoholism and adultery. Let alone that this story was fairly hardcore erotica with BDSM, MM and MFM play involved. But there is just something so…tangible about the way Ashley conveys each emotion that captures my attention. It's rather methodical as she explains the hero or heroine's inner thought process and it always helps me connect more easily with them.
I was sincerely bowled over by who Stellan and Sixx were without their Dom/Domme personas. It was surprising, a bit sad in Sixx's case, hugely entertaining once they got together with their strong personalities, and just so, SO sexy it was ridiculous. I wasn't sure going into this book (which by the way is about 500 pages, so it's a time investment but totally worth it) how much I would like either main character or how two dominant people would match up romantically. It completely worked, though. Stellan was every bit as alpha, suave and protective as I knew he would be, but there was a wonderfully caring, funny side to him that I didn't see coming. And with Sixx, well, she was one badass woman who had pulled herself out of the hell that was her childhood to become something of a superhero in my eyes. They were a couple who just felt like they belonged together. I honestly couldn't imagine anyone else for either of them who would understand, challenge or be able to care for each other in the same intense way. *sigh*
Move over Christian Grey–Stellan Lange is the man every woman deserves in their lives. Just like every lucky man deserves a phenomenal woman like Sixx. Uber emotional and so hot & steamy my kindle was nearly on fire, Kristen Ashley did oh so right by her fans with The Greatest Risk.

Book Info:

Publication: Published May 1st 2018 | St. Martin's Griffin | Honey #3
A woman unable to connect, struggling to hide another part of her. A man burning to learn her truth, and make her whole. Through explosive passion and deep exploration, they are about to take the greatest risk of all. But will they be able to take that leap, and come out on the other side together?
In this next passionate novel in the Honey series, New York Times bestselling author Kristen Ashley delivers a stunningly romantic and intensely sexy novel that will stay with you long after you turn the final page.