I Think I Love You by Lauren Layne: Brit is smart, friendly, and is able to put everyone else at ease. So at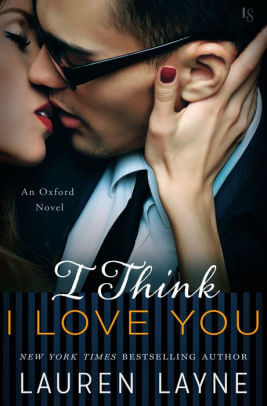 ease that she can't find a man to see her as more than their friend. While she loves her job at Oxford and all of her friends, she is tired of being single while it seems like everyone else is falling in love. She's determined to figure out what she needs to do to change how guys perceive her…courtesy of her very best friend.
Hunter enjoys his job at Oxford and his life in New York, but he misses his family. He's the total package: handsome, sexy, a gentleman, and treats women well. He sees marriage and kids in his future, but not right now.
Brit and Hunter have been best friends for the last six years. They don't even remotely see each other as attractive or sexy and no romantic thoughts cross their minds when they think of each other. But Hunter is definitely thrown when Brit decides to change how guys in general see her and move firmly out of the friend zone.
"This favor you have to ask of me. Is it the type of favor that I can hear while sipping water? Should I pour myself a glass of wine? Or is it the type of favor where I'm definitely going to want whiskey?"
She chewed her lip and considered. "Whiskey."
Hell.
"For me too," she said.
Hunter very reluctantly agrees to the seduction lessons and neither think of the potential consequences for their friendship. As the lessons progress, they start to experience new and different feelings that neither know how to shake. They have always had banter, but now there is a noticeable chemistry. It's not a huge leap to go from best friends to best friends with benefits, but it's more complicated since Hunter is her boss.
"I still don't understand what the heck we're celebrating."
"Preemptive celebration," he said.
"For?" Frowning as he took the glass out of her hand and set it on the counter alongside his own.
Hunter stepped toward her and hauled her against him. "For this."
I Think I Love You is delightfully entertaining and sexy as clueless best friends become the hottest office romance. Lauren Layne seamlessly worked in the characters from the Stiletto and Oxford series while still allowing for this book to stand on its own in the series. Ms. Layne provided tension, anticipation, humor, and heat in the story that fans of the series have wanted. Fans of Jessica Lemmon, Kate Meader, and Jennifer Probst will love I Think I Love You.

Book Info:

Publication: July 10th 2018 | Loveswept | Oxford #5
A game of seduction between two best friends goes deliciously wrong in an irresistible Oxford Novel that brims with wit and sexual tension. Library Journal hails Layne's work as "exemplary contemporary romance."
Brit Robbins knows that dating in New York City is hard—she just hoped to have it mastered by age thirty. But after yet another promising suitor says they have no sparks, Brit decides it's time to torch her dating game and try a new plan. And who better to coach Brit through the art of seduction than the guy who first gave her the "let's be friends" card?
Hunter Cross has always figured there's nothing his best friend Brit can do to surprise him. But Brit's request is a surprise he doesn't see coming—and one he's definitely not prepared for. Hunter and Brit have always been careful to keep things perfectly platonic, but the fake dates and faux flirting are starting to feel like the real deal. And soon Hunter realizes he has taught Brit too well. Not only has she become an expert at seduction, the man becoming thoroughly seduced is him.
Lauren Layne's New York Times bestselling Oxford Novel series can be read in any order:
IRRESISTIBLY YOURS
I WISH YOU WERE MINE
SOMEONE LIKE YOU
I KNEW YOU WERE TROUBLE
I THINK I LOVE YOU
Don't miss any of Lauren Layne's hot reads:
The Love Unexpectedly series: BLURRED LINES | GOOD GIRL | LOVE STORY | WALK OF SHAME | AN EX FOR CHRISTMAS
The Sex, Love & Stiletto series: AFTER THE KISS | LOVE THE ONE YOU'RE WITH | JUST ONE NIGHT | THE TROUBLE WITH LOVE
The Redemption series: ISN'T SHE LOVELY | BROKEN | CRUSHED
The I Do, I Don't series: READY TO RUN | RUNAWAY GROOM | JUST RUN WITH IT
Includes an excerpt from another Loveswept title.