In Immortal Angel (Argeneau #31) by Lynsay Sands, Ildaria Garcia has been through the wringer while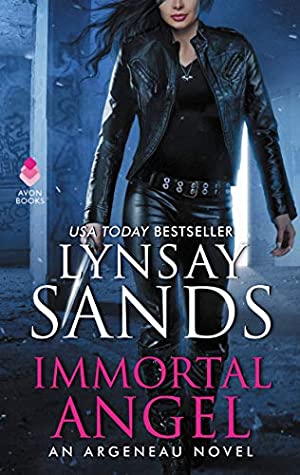 running from her past in the Dominican Republic–and from a powerful man who has chased her for decades. That's probably why she fights, taking down bad guys on her own, to feel a bit of control for a change. Her immortal gifts certainly help her cause. But it means Ildaria should stay under the public's radar, something that Lucian has pointed out and which caused her to be moved to Canada under his watchful eye. It's just when things are looking up with new college classes and two jobs that Ildaria is thrown sideways. She finds her potential lifemate. But her past finds Ildaria, too, leaving her with a life-altering decision to make.
"Angel," he said quietly. "We're life mates. Partners. Your burdens and worries are mine too now, and mine are yours. Tell me what is troubling you."
Much to Ildaria's amazement, she felt tears sting her eyes and threaten to fall. She had been on her own for so long, with no one to care let alone help or share…
As the owner of two immortal night clubs, mortal Joshua "G.G." (Green Giant) Guiscard has of course heard of lifemates and a lot of what it entails. After a traumatic event as a young child, he's decided that if he is a lifemate to an immortal, he won't allow himself to be turned. And even after G.G. meets and begins to fall for Ildaria, he holds strong to his decision. But as he realizes what little time they would have together in comparison to centuries as an immortal–and how much more capable he would be of protecting her–it definitely gives G.G. something to ponder.
'He needed to start paying attention to his surroundings. Ildaria's life may depend on it.'
Immortal Angel was yet another exciting and charming installment in Lynsay Sands' long running Argeneau series where a vigilante immortal heroine on the run from her past finds a potential lifemate in a mortal hero who refuses to be turned. You can just imagine the drama, the action scenes, and of course the laughs Sands is known for.
'Ildaria didn't want him to have to change to be with her. She didn't want him to have to hide either. He had family and friends and both Night Clubs…She couldn't ask him to give all that up for her.'
I can't believe I'm saying this thirty-one books in, but I'm still having a blast with this series. It's always fun to catch up with previous characters, like Marguerite & Julius, Lucian, Sam, but equally as entertaining to get to know new people. Well, new-ish in G.G. and Ildaria's case. Because we've seen G.G.–and his green, foot-high mohawk!–briefly before where he owns immortal night clubs in Canada and England. And Ildaria made a big impression on me in book twenty eight, Vampires Like It Hot, during the pirate ship excursions. (Another fun book!) But this story gave us so many more reasons to like this hero and heroine.
I think what struck me about both Ildaria and G.G. was that they were very strong in their beliefs and had amazing inner strength. And they were simply *good* people. Immortal college student Ildaria had a tough upbringing and had been on the run for over a century. I loved that she looked out for others, even to her own detriment as a vigilante. Which Lucian understood, but wanted to keep better control on how much the public got to see. Hence her new residence in Canada.
G.G. was pretty awed by Ildaria's fighting skills and independence. It was her being immortal that was a tough sell for him given his past and how he witnessed a loved one being turned. But big, tough G.G. was a teddy bear underneath the mohawk, tattoos, and gruff exterior. Right down to his choice in dogs, how he spoiled his tiny precious pup, H.D., and how well he treated his employees. G.G.'s mother and father were also a highlight in this story. Their meet-cute, well…meet-awkward, with Ildaria had me wiping tears away from laughter.
Immortal Angel was a lovely reminder of why I adore the Argeneau series and still look forward to each new romance. And the twist at the end has me curious as to what Lynsay Sands has planned for a couple of deserving immortals in future books.
Book Info:

Publication: September 29th 2020 | Avon | Argeneau #31
For almost a century, Ildaria Garcia has been on the run, a trouble magnet with a knack for taking down bad guys. Lately, her vigilante tendencies have drawn unwelcome attention to her fellow Immortals. Forced to relocate, Ildaria is supposed to lay low in a new town. Instead, she quickly entangles herself with six and a half feet of muscular, tattooed trouble.
Joshua James Simpson Guiscard, aka G.G., knows a lot about Immortals—enough to make him wary. Yet from the moment Ildaria walks into his club, he feels desire stronger than anything he's known. Accepting the fact that they might be life mates is disconcerting. But when her past catches up to them, G.G. faces a choice—confront his demons at last, or lose a passion that's hot as hell.