Impulse Control by Amanda Usen: Impulse Control by Amanda Usen is another entertaining read from Entangled's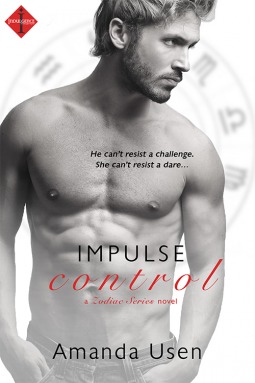 Indulgence imprint. I always look forward to reading Ms. Usen's stories because they are filled with well-defined characters, an original plot and a romance trope that I truly enjoy. This book kept me entertained, in addition to craving a home cooked meal.
Susannah Stone is a recently divorced single mom with a good support system. Her cute, fourteen-month-old son is a handful, but she is able to take care him and star in her own homemaker show without skipping a beat. In order to increase her show's already high ratings, the TV station teams her up with Russ Donovan, a wilderness adventurer with his own successful survival TV series. A combined show, entitled, At Home in the Wild, is sure to be a ratings blockbuster. Susannah does not want to leave her son for any reason, especially to spend a weekend climbing and camping, in the winter wilderness.
Russ is an extremely popular and good-looking guy who constantly pushes the envelope, which results in some family distress, while delighting his fan base. Russ knows nothing about changing diapers, baking or cleaning and has no desire to learn. Although Susannah and Russ seem incompatible and total opposites, they have an amazing chemistry, which enables them to enrich each others' lives both mentally and physically.
This is an fun book, although the pace dragged from time to time. In addition, I found the yearning and longing between Susannah and Russ to fall a little flat. However, Ms. Usen puts her own wonderful spin on the enemies to lovers romance trope, while adding a dash of Martha Stewart and Survivor into the mix. I liked both main characters, due to their capacity to successfully challenge each other with humor and honesty. Susannah and Russ make a nice couple and Ms. Usen's ability to craft hot, sexy scenes are easy to appreciate.
Book Info:

Publication: January 19th 2015 by Entangled: Indulgence
Survivalist reality TV star Russ Donovan can't believe he's been strong-armed into filming a new show with Martha Stewart wanna-be Susannah Stone. Cooperating could mean millions of dollars for his family's charity, but Susie Homemaker won't survive five seconds on a winter camping trip with him.
A bitter divorce left Susannah fiercely protective of her independence and determined to provide for her young son. She's turned homemaking into an art form—and a popular TV show. If climbing a mountain with the spitting image of her domineering ex-husband will give her a ratings boost, she'll do it. But just wait until she gets the "Wild Man" on her turf: in the kitchen with a small child underfoot and a dinner party in two hours. She'll show him what tough really means.
Neither one expects sexy sparks to fly. With a camera recording their every move, fighting the flames becomes their biggest challenge of all.