Shattered by Ava Conway: In an attempt to make a good first impression on the first day of her internship at a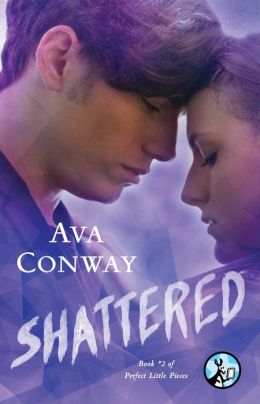 prestigious psychiatric hospital, Mia ends up irritating her supervisor, the staff, and the patients. Mia comes off as being superior and judging the orderlies and patients, while putting her supervisor on a pedestal. Initially, Mia struck me as being very career-driven and overly focused on showing off her considerable knowledge. As more of Mia's family life and past is revealed, we get to understand her sincere and deep-seated drive to help the mentally ill.

Flynn was an up-and-coming fighter until he lost it all. He's now a patient at the hospital with little hope of ever getting out or living a "normal" life. Flynn is incredibly protective of those he cares about and tries to help the other patients, with little concern for himself. While he may lack formal education, Flynn is intelligent and very perceptive.
Flynn intrigues Mia from their first meeting. She has difficulty understanding just why he is a patient. Flynn is actually a really great influence on Mia; he helps her to begin to rethink her beliefs about the patients, her internship, and her life.
"What do you think would have made them happy?"
He considered her for a moment. "Companionship."
"Companionship?"
"Yeah. They are all lonely, and all they want to do is to not be lonely anymore. The thing is, in pursuing those things, those dreams, they become even more isolated and miserable."
I stared at him as he continued to talk, realizing that his words were hitting a little too close to home.
"If they had just reached out and been honest with one another, then all of the tragedy could have been avoided." He ran his fingers over the faded book cover. "So many people live their lives in pursuit of happiness but never are truly happy."
Mia and Flynn are drawn together, but he's also her patient. Both know that a relationship isn't possible, but they need each other. As they start to open up, they develop a deeper connection. Mia was fairly naïve at the beginning, but she learns more than she ever expected during her internship.
"But here's the thing that they don't realize. Words are permanent. People aren't."
"They aren't?" I asked.
"No." Flynn's features softened as he brushed a stray hair from my face. Tingles of awareness raced over my skin, heating my core and making me feel light-headed.
"People, unlike words in files, never stay the same," he said as he trailed his fingers along the side of my face. "They're learning and growing." He hooked his finger under my chin and held my gaze. "You can't put a label on that."
Shattered is a forbidden love story in a mental institution. Ava Conway wrote an intriguing story in a place where there is little hope for personal change or a better life. Where the patients are the richer, more complex characters and you want them to find a way to get out of the psychiatric hospital for a better life. Ms. Conway makes a number of interesting observations through her characters, especially Flynn. Ms. Conway also does a really good job showing the growth and development in Mia. While this is the second book in the series, Shattered can be read as a standalone.
Book Info:

Publication: January 5th 2015 by Pocket Star
In this thrilling and sexy new novel following Hollow, a psychiatric intern starts to question her values and training when she falls in forbidden love with one of her patients.
For the first time in her life, Mia Horton isn't afraid of the future. Equipped with a new major, a new internship, and a new life, she is finally able to put the past behind her—that is, until she meets Flynn McKenna. Flynn's boyish charm and rugged good looks make her feel things she doesn't want to feel, shaking the foundations of her carefully constructed world. With Flynn, Mia craves things she knows she can never have and wonders if she'll ever be rid of the silent curse that seems to plague all of the women in her family.
Well on his way to being the youngest mixed martial arts champion in the world, Flynn uses fighting to provide for his impoverished family. Then one day an accident forces him to the sidelines. His failure to achieve success devastates his parents and starts a downward spiral of guilt and self-loathing that lands him at Newton Heights Mental Hospital. He has given up on all hope, when a gorgeous young intern helps him see that there's more to life than winning, and that love is the most valuable prize of all.