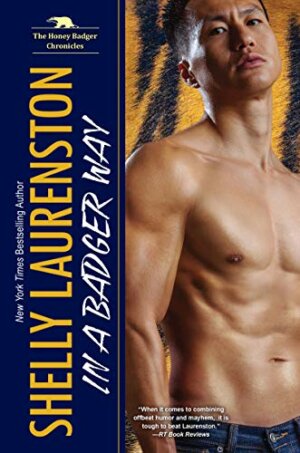 Shelly Laurenston continues the fun hilarity of the honey badgers in her Honey Badger Chronicles series in this book, In a Badger Way.
It's tough being a child genius or any age genius when there are those who are out to exploit you and use you. Stevie MacKilligan is well aware of this having learned the ugly truth at a young age. Being a honey badger and having two honey badger half sisters helps, helps a lot.
Stevie's sisters came to her rescue when she was kidnapped as a child. Now she has a mission of her own. Someone is experimenting on hybrid shifters and Stevie has been tasked to help find the culprit. Good thing bodyguard Shen Li, Giant Panda shifter, is willing to help her. Not that this is the only problem facing Stevie and her half-sisters, Charlie and Max. Their crazy, stupid father is still in the picture and causing trouble as usual. Someone is out to get Max. Now who would be crazy enough to go after Max? Oh! And Stevie has decided that Shen Li is the guy for her. Panda bears are so cute, especially Shen Li.
This author is a true genius in the paranormal romance field. Her world is a racy, dangerous place filled with shifters of all kinds. Yes, there is lots of danger but there is lots of fun too.
Honey-loving bear shifters just show up and party especially when there are treats made with honey to be had. Then there's Wild Dog Night – lots of fun. All the fun aside don't mess with the MacKilligan sisters though. You will be sorry if you do. Unleashed anal glands – that's all I can say.
There is so much going on in this story that you can't help but be entertained. So much humor, witt and sarcasm… a fantastic laugh-out-loud read. Even when you are not laughing out loud you will be smiling as you read. This story is so much fun it is like a party in a book.
Book Info:

Publication: March 26, 2019 | Kensington | Honey Badger Chronicles #2
Petite, kind, brilliant, and young, Stevie is nothing like the usual women bodyguard Shen Li is interested in. Even more surprising, the youngest of the lethal, ball-busting, and beautiful MacKilligan sisters is terrified of bears. But she's not terrified of pandas. She loves pandas.
Which means that whether Shen wants her to or not, she simply won't stop cuddling him. He isn't some stuffed Giant Panda, ya know! He is a Giant Panda shifter. He deserves respect and personal space. Something that little hybrid is completely ignoring.
But Stevie has a way of finding trouble. Like going undercover to take down a scientist experimenting on other shifters. For what, Shen doesn't want to know, but they'd better find out. And fast. Stevie might be the least violent of the honey badger sisters, but she's the most dangerous to Shen's peace of mind. Because she has absolutely no idea how much trouble they're in . . . or just how damn adorable she is.