In In Self Defense (Winchester, Tennessee #1) by Debra Webb , newspaper publisher Audrey Anderson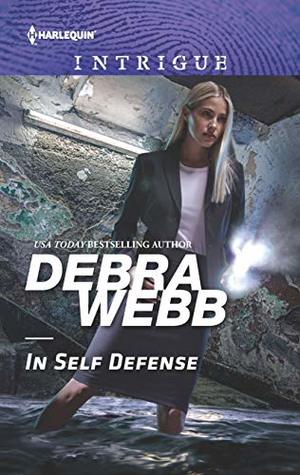 isn't above using their shared past to get what she wants and what she wants is information on the two grisly murders that have occurred from sheriff Colt Tanner. However, the more she investigates, the more danger she could be putting herself in. Will Audrey and Colt discover who the person responsible for the murders is or will they lose their second chance at happy ever after because a killer has the pair in their sight?
"I know I've said this a thousand times." His voice was soft now, gentle. "But I'm sorry for what I did. I love my son and I can't regret him, but I would give anything on this earth if I hadn't hurt you."
She moistened her dry lips for the hundredth time, worked hard to keep the anger and resentment out of her voice. "That was a long time ago, Colt."
"No amount of time will change how much I regret being so stupid."
Ms. Webb has such a talent for writing romantic suspense and getting to read the first two books of this series back-to-back was absolutely fantastic because the heroines each have a tragic back story that I couldn't wait to discover more about and how the crimes now are linked to Audrey's past. Will Audrey get to the bottom of what happened all those years ago, especially as she begins to uncover more and more about the victims?
The way this story started had me liking the heroine immediately, as she'll do anything to get her story and if it means making the hero feel guilty about their shared past than that's what she'll do. Will the hero allow Audrey to get away with the emotional blackmail she's determined to use to get what she wants? Furthermore, the dialogue was entertaining and I enjoyed this couple's growing relationship, as they find their way back to each other while the heroine does her best to keep her secrets. Will the hero discover the truth before the heroine has a chance to tell him about the past?
With the heroine, she's assertive, bold, resilient, courageous and I loved how she challenges the hero because she's determined to get her story no matter how dangerous things become. While the hero, he's loyal; caring, protective; and I liked that he helped the heroine, despite the fact that he's a cop and shouldn't be helping a reporter. I also liked his determination to win the heroine over because she's the woman he's never gotten over. Will Audrey be able to forgive the hero for breaking her heart all those years ago?
Overall, Ms. Webb has delivered a wonderfully thrilling and intense read in this book where the chemistry between this couple was strong; the romance was worth the wait; and the ending had me on the edge-of-my-seat because of what happens, but had me loving how things work out for the hero and heroine because they're meant to be together. I would recommend In Self Defense by Debra Webb, if you enjoy romantic suspense, the second chance romance trope or books by authors Elizabeth Heiter, Elle James, Cindi Myers and Lena Diaz.
Book Info:

Publication: February 1st, 2019 | Harlequin Intrigue | Winchester, Tennessee #1
When a tireless newswoman becomes the story…
she could lose everything—starting with the family business.
To get the scoop on two grisly murders, newspaper publisher Audrey Anderson needs help from Winchester sheriff Colton Tanner—the gorgeous cowboy who betrayed their teenage love. But Audrey fears that finding the killer will mean exposing the family secret she desperately needs to stay buried. She'll do whatever she has to in order to protect those she loves. No matter what happens…or how hot things get with Colt.