Low Country Hero by Lee Tobin McClain, deals with the difficult topic of domestic violence. If this is a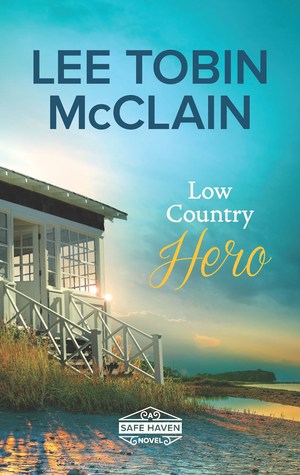 trigger for you, you should avoid this one.
Anna has escaped her abusive ex with their five-year-old twins and have taken shelter in Safe Haven, South Carolina, at cabins she believed were unoccupied. There she runs into Sean O'Dwyer, the man restoring the cabins. Having witnessed domestic abuse himself when he was a child, he gets the owner to allow them to stay as long as she helps with the restorations. He wants to help them as much as he can, as much as the people of Safe Haven helped him and his brothers when they were younger. But when it appears her ex is after her, will Safe Haven be able to save them?
The book grabbed my attention at the prologue, which is the story of Sean's family and the last time the O'Dwyer brothers saw their mother. It lost me a little, however, when Anna meets Yasmin, a counselor at the town's domestic abuse center. She tells Anna that Tony, someone Sean considers a brother, had been accused by his ex of abuse but even though the charges had been dropped she wasn't sure he was innocent. Based on the fact that Yasmin never discussed the possible abuse with Tony's ex, and that she didn't know whole story or have any proof, she puts doubt into Anna's mind about Tony's character, which makes Anna believe the worst about him. This makes their first meeting uncomfortable and leads Sean to become defensive of Tony. I felt it basically amounted to Yasmin spreading rumors which, as a counselor, she shouldn't have been doing.
I enjoyed watching Sean and Anna help each other heal. It was also wonderful to see the girls get comfortable enough to start opening up to the people of Safe Haven. After everything they had been through, I thought it was nice for them all to find some peace with one another. All the people of the town were great, lending Anna and the twins help and support, no questions asked.
There's a side-story about a new resident in town named Rita who has amnesia. I quickly figured out who she really was, and while it appears most of the town can't put two and two together about her true identity, there's at least one person in town who pieced it together. I'm interested to see if Rita ever gets her memory back and what will happen once people realize who she is.
Low Country Hero is a heart-tugging story of two people who've been through the worst and have to piece their lives together again. The story is well-written with characters that will have readers rooting for them to find their happy-ever-after. I'm looking forward to reading more of this series.

Book Info:

Publication: February 26, 2019 | Harlequin | Safe Haven #1
Sunny, carefree days splashing in the ocean–it's the life Anna George has always wanted for her five-year-old twins. And now that they've made it to Safe Haven, South Carolina, she won't let anyone stand in her way. Not the abusive ex she's just escaped and not the rugged contractor who caught her setting up house in the shuttered beachfront cabins he's refurbishing. When he offers Anna and her daughters a place to stay in exchange for her help with renovations, she's tempted. His gentle way with her girls makes her want to trust him, but she's been wrong before…
A family is the last thing contractor and former military man Sean O'Dwyer wants right now. But when he discovers Anna and her girls, he recognizes kindred spirits. They're survivors who've seen the worst of people, just like he has, and he'll do anything he can to help them. As he and Anna spend their days bringing the cottages back to life and their nights sharing kisses in the warm bayou breezes, Sean must choose between the life he always wanted and the family he can't live without.