In The Friendship List by Susan Mallery, Ellen Fox and Unity Leandre have been best friends since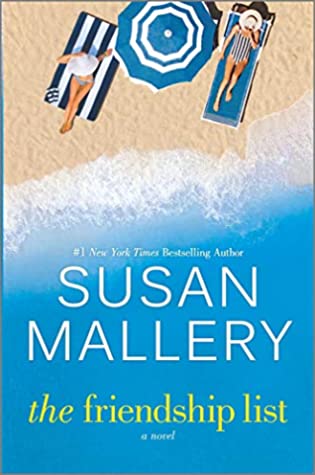 childhood. Through every challenge life has thrown at them, they've stood by each other and made the best of things. But everything comes to a head just as the summer begins this year. Single mom Ellen's dilemma is her seventeen-year-old son Cooper. When she overhears him telling a friend that he'll be stuck at home because he doesn't think she can take care of herself if he goes away to college, Ellen is wrecked. The last thing she wants is to hold her son back. But how can she show him that she'll be fine when she's not really sure what she'll do with her life when he's gone?
"He should have a chance to follow his dreams without worrying that I'm dragging him down."
The answer is the Friendship List that Ellen and Unity create together. They'll have different challenges that will push them out into the world and live their full life for a change. For Ellen, that means dating, wearing clothes that actually fit, and maybe even some lovin'. But for Unity, it's a whole other issue. Having lost her husband three years ago, her thirties have been a time of grief and pain. But if Ellen is going to be brave then Unity should too. Right? Although it proves more daunting than she even realized when she tries to put the items on her list into action. It turns out she's a bit more broken than she thought. But with Ellen's help and that of an eccentric local resident, Unity might just find her way out of all that she's been mired in for so long. Maybe even finding a few laughs and love along the way.
'If she was completely honest with herself, she was tired of it. Tired of feeling bad, of being lonely and sad. She wanted to be different, but didn't know how.'
The Friendship List was an uplifting, hilarious, and heartfelt new standalone novel by Susan Mallery. A complete joy to read, I think women's fiction and romance fans alike will be howling with laughter and wiping away tears of happiness the whole way through.
"Let's do this," Ellen said. "Let's come up with a list of challenges. Things that are scary and fun and help us grow as people."
"Ugh." Unity wrinkled her nose. "Sorry. Not a fan of change."
"Me, either, but circumstances being what they are, I don't think we have a choice."
I seriously had the best time reading The Friendship List. I do anytime I read a book by Susan Mallery, of course, but Unity and Ellen's story was an awesome mix of laugh-out-loud funny moments they endured along with soul-searching and personal issues they had to overcome. And girl power! There was a nice touch of female empowerment throughout the whole book, from Unity's "handyman" business to Ellen tackling her love life and making the moves on her man first. It was all done in an oh-so-real way, including all of the triumphs and cringeworthy situations that we've all muddled through in our own lives.
Every woman deserves a friend like Ellen and Unity had in each other. Really: #friendshipgoals. And that's something that I think Mallery does fantastically in her books. She creates realistic female relationships that inspire us while being honest about the tougher times friends go through. That was truly Unity and Ellen to a T. They didn't always see eye to eye when they stumbled over the items on their list. But you knew they still cared for one another and would be there, without fail, if they were needed. And isn't that really what friendship is all about?
I thought the idea of making a list of somewhat scary things to do to bring Ellen and Unity out of their rut was a great one. Unity's journey in particular is the one that to me was the most touching, where she was still suffering through the loss of her beloved husband, her high school sweetheart. She struggled through the entire book. I have a feeling it might seem to take too long for some readers, but I thought Mallery handled it beautifully and let Unity take the time needed to work through her grief and figure out that it was okay to move on and even love again.
Ellen's journey was more upbeat overall. She basically put her life on hold as a single mom and busy teacher. It took her wonderful son Cooper thinking he couldn't leave her on her own when he went to college to push Ellen out of her comfort zone. So she finally tried to be a little wild, have fun and date. Once she let go…she was on fire! Her victim–er, I mean love interest, was her close friend Keith. And what a hoot they were together. I adored them so much. Ellen and Keith made me giggle continuously with their initial awkwardness, but then fan my face over their intense physical attraction that took them both by surprise.
Absolutely perfect for summer reading, The Friendship List will take readers on a most enjoyable ride. Through the happiness and tears, passion and grief, Susan Mallery didn't leave one emotion unturned–and I'm sure her readers wouldn't want it any other way.
Book Info:

Publication: August 4th 2020 | HQN Books |
[ ] Dance till dawn
[ ] Go skydiving
[ ] Wear a bikini in public
[ ] Start living
Two best friends jump-start their lives in a summer that will change them forever…
Single mom Ellen Fox couldn't be more content—until she overhears her son saying he can't go to his dream college because she needs him too much. If she wants him to live his best life, she has to convince him she's living hers.
So Unity Leandre, her best friend since forever, creates a list of challenges to push Ellen out of her comfort zone. Unity will complete the list, too, but not because she needs to change. What's wrong with a thirtysomething widow still sleeping in her late husband's childhood bed?
The Friendship List begins as a way to make others believe they're just fine. But somewhere between "wear three-inch heels" and "have sex with a gorgeous guy," Ellen and Unity discover that life is meant to be lived with joy and abandon, in a story filled with humor, heartache and regrettable tattoos.