In Inappropriate by Vi Keeland, Being fired from a long-time job can be stressful enough on its own.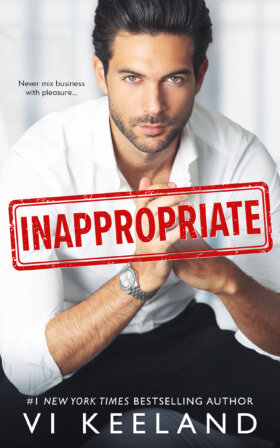 But to find out that it was based on footage of a carefree moment during a (private) bachelorette party that somehow found its way into management's hands? Yeah, Ireland isn't going to let that happen without a fight. With the aid of some liquid courage, she sends off a scathing email to one of the CEOs, letting him know the truth behind her dismissal and her feelings about it in great detail. Oddly enough…Mr. Grant Lexington writes Ireland back. And from there, they form a weird–but sexy as hell–rapport that has each of them thrown for a loop.
"Sorry. I know it's probably not the smartest idea, but I'd really like to take you out."
"Is it not the smartest idea because I work for you, or not the smartest idea because we met by me sending you a drunk email to tell you off?"
Grant smiled. "Both."
As flirty casual dates together begin to turn a tad more serious, Grant and Ireland both have their own qualms about where they are headed. And for legit reasons, given their not-always-so-wonderful past relationships. But they can't seem to put a stop to things. It's probably not a good idea for Grant to date one of his employees. Nor is it wise for Ireland to fall for a sexy man–her boss, no less–who is emotionally unavailable. As the two come to terms with their current reality and how their past has shaped them into who they are today, Ireland and Grant have some important decisions to make that could change the course of their lives.
I pointed to his chest. "Umm…that's just not fair."
His brows lifted, and he chuckled. "Are you saying you like what you see?"
Was he joking? I wanted to *lick* what I saw.
Inappropriate was a wild ride of deeply emotional twists and turns that I didn't expect. Even through the somber moments–which were outweighed by the upbeat–Vi Keeland captured my heart with two broken characters who helped each other learn to let go and love again.
"I realize now that not all the good things in life are simple. Some of the best things are complicated, but beautiful and worth all the risk."
Trigger warning: View Spoiler »Mental illness, loss of a child, murder. « Hide Spoiler
I'm not kidding when I say Inappropriate was an emotional roller coaster. And I loved every single second of it. Even as I was ugly crying. Vi Keeland has such a wonderful writing voice that's modern with lively dialogue, and was easy to follow without losing anything in the depth of the storyline or the emotions her characters went through. I have to say that although I loved that this started off as basically a romantic comedy–with Ireland's drunken email to Grant and the subsequent fallout–I was pretty wowed by the underlying struggles they then had to overcome to allow their relationship to grow. And how serious things got when they started digging in to their pasts.
As far as lead characters go, Grant and Ireland were awesome. Ireland was a spitfire who spoke her mind, didn't let the egotistical guys at her news casting job get away with their condescending ways, and was a compassionate person and loyal friend. Grant was a corporate-type alpha who was whip smart and was used to having things his way. And boy what a sexy dirty-talker he was! *fans face* But his past shredded Ireland. And me.
Keeland parceled out Grant's agonizing history through flashback scenes/chapters, which built a picture of why he was so reluctant to get attached to Ireland. Or anyone. Some of it was so shocking and sad that as I picked up the clues that Keeland expertly wove in to the present day, my heart broke for Grant. But don't worry. Things ended on a happy note in a way befitting Ireland and Grant's frisky, passionate–but tender–love for each other.
The laughs, the tears, and the sexy moments so hot I needed a fan, Inappropriate shows Vi Keeland at her heartfelt best and definitely made me want more time with this lovely, dynamic couple.
Book Info:

Publication: January 20th 2020 | C. Scott Publishing Corp |
A new, sexy standalone novel from #1 New York Times Bestseller, Vi Keeland.
Terminated for inappropriate behavior.
I couldn't believe the letter in my hands.
Nine years. Nine damn years I'd worked my butt off for one of the largest companies in America, and I was fired with a form letter when I returned home from a week in Aruba.
All because of a video taken when I was on vacation with my friends—a private video made on my private time. Or so I thought…
Pissed off, I cracked open a bottle of wine and wrote my own letter to the gazillionaire CEO telling him what I thought of his company and its practices.
I didn't think he'd actually respond.
I certainly never thought I'd suddenly become pen pals with the rich jerk.
Eventually, he realized I'd been wronged and made sure I got my job back.
Only…it wasn't the only thing Grant Lexington wanted to do for me.
But there was no way I was getting involved with my boss's boss's boss. Even if he was ridiculously gorgeous, confident, and charming.
It would be completely wrong, inappropriate even.
Sort of like the video that got me into trouble to begin with.
Two wrongs don't make a right.
But sometimes it's twice as fun.