In Lean on Me (Family is Forever #1) by Pat Simmons, Tabitha Knicely and her sisters, Kym and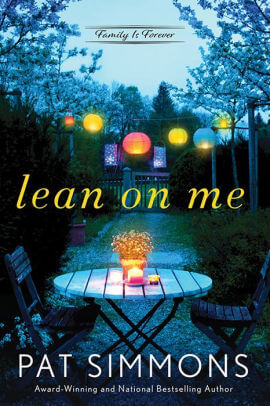 Rachel, have had to make some unexpected decisions regarding their revered Aunt Tweet who is unfortunately battling dementia. The sisters have decided to split the care by taking their aunt in for six months each. Eldest sister Kym's time with Aunt Tweet went fairly well. But when Tabitha takes over the reins, moving her aunt in with her, she realizes she had no idea how challenging it would be. Starting with Aunt Tweet's ability to stealthily sneak off to sit on a neighbor's porch–much to the dismay of said neighbor.
'Aunt Tweet had been the most loving, caring person she knew. She had to keep reminding herself of the person that was inside, no matter what she saw on the outside.'
Marcus Whittington was rather shocked to find an elderly woman on his front porch one morning with no one around assisting her. And it's happened more a couple of times since. He can't stand by and watch the woman come to harm, so Marcus feels his only recourse is to contact the police. But once he meets Aunt Tweet's caregiver, her niece Tabitha, he slowly begins to understand how much of a struggle she's having. And it saddens him to see how Alzheimer's is ravaging Aunt Tweet's mind. Not one to let a damsel in distress go without help, Marcus steps in to assist the lovely ladies. But as he falls for Tabitha more and more, he vows to do all he can to love and protect the duo who has stolen his heart.
'Suddenly, he felt like a fool for being so harsh with her. She was struggling to be a caregiver, but who was taking care of her?'
Lean on Me was an inspirational story of a family in crisis. A tender look at the sacrifices made when caregiving for a loved one, Pat Simmons' realistic prose will bring out a full range of emotions in her readers.
"God has been my peace at times when I didn't even understand how I was holding things together. Marcus has been my sanity, and let me just say, every woman needs a Marcus in her life."
I'm so glad I started off reading Pat Simmons' work with this book. As a former caregiver myself for eight years, I understood wholeheartedly the issues our heroine Tabitha and her two sisters, Rachel and Kym, faced. And I have to say that Simmons really painted a clear picture of the emotions Tabitha battled: guilt, sadness, exasperation, happiness; and she conveyed how complicated and awkward it can be when the roles are reversed and you are caring for someone who used to take care of you.
I will say that I was pretty frustrated with our hero Marcus through the first third of the book. I could tell he was a kind man who had even based his business on helping others, giving them an opportunity when no one else would. So to see Marcus be judgmental towards Tabitha struck me wrong unfortunately. But…he did redeem himself completely. I grew to love his tenderness with Aunt Tweet and with the way Marcus thought of himself as a caregiver for Tabitha, where she was constantly struggling day to day with the horrible effects dementia had on Aunt Tweet.
I liked that Simmons showed the real struggle that a family goes through with caregiving and didn't gloss over it. Tabitha, Rachel, and Kym's feelings were raw and they were not always in agreement over how things should be handled with Aunt Tweet. But they got through it by hearing each other out. (Well, mostly hearing each other out, lol) And where this is a series–yay!–it sounds like Rachel's story will be up next as she takes Aunt Tweet into her home for six months to care for her. Should be interesting…
With lovely Christian teachings and sentiments woven into an already layered story of family, friendship, and love, Lean on Me will be sure to tug on your heartstrings and capture your heart.
Book Info:

Publication: Published January 7th 2020 | Sourcebooks Casablanca | Family Is Forever #1
First in an emotional, poignant romantic women's fiction series by acclaimed inspirational romance author Pat Simmons.
No caregiver should ever have to go it alone…
Tabitha Knicely loves her career as a pharmaceutical rep, but even her health care knowledge isn't much help with the daily challenges she now faces caring for her aunt with Alzheimer's. Her once organized lifestyle is in disarray and her patience is tested. On Sunday mornings, when Aunt Tweet drags her to church, though Tabitha isn't a believer, the peaceful presence of faith is a welcome relief.
Marcus Whittington believes in second chances, so he hires former inmates to staff the industrial cleaning service he owns with his brother. When a mystery woman who keeps showing up on his porch turns out to be an elderly neighbor, Marcus is outraged at what he perceives as neglect on the part of her caregiver.
Marcus soon learns that being a caregiver is a demanding, compassionate act of kindness that he has never experienced before. After several encounters with Aunt Tweet and Tabitha, his heart is drawn to the family's distress. Marcus is determined to help Tabitha, and a friendship that started out with a grave misunderstanding soon begins to blossom into a relationship filled with love, faith, and partnership. Life is easier, when you have someone to lean on.