Incapable by Ainslie Paton: Blind voice actor Damon is everything Georgia wants to avoid.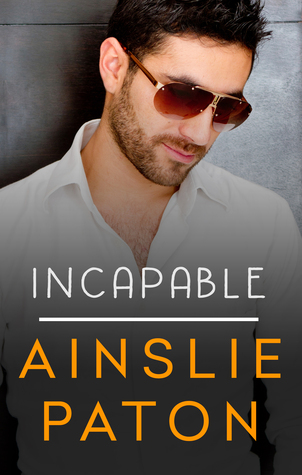 After separating from her emotionally abusive husband she was caretaker for, Georgia does not want to get involved with someone else who brings out her nurturing instincts, wanting to focus on herself for once.
But Damon isn't used to a woman who wants nothing from him and who doesn't want to change him, in fact, a woman who is downright prickly towards him. He begins his wooing of Georgia who finds it hard to resist the charming Damon, a man who wants to care for her rather than have her care for him.
But as Damon's blindness and health worsen, secrets and insecurities take a toll on their relationship.
"It plunges, the neckline, it plunges to the waist. No bra."
He hissed. He could see this dress. Not something she owned, but fantasized about wearing, pleasing someone in.
"No other underwear, because you'd see the lines."
"Hot." Much hotter than the standard scene she might've written; suspenders and corsets. She was giving him a vision that pleased her first.
I absolutely loved Incapable. It's a truly unique story, not just with the blindness but the characters and the circumstances of the story. Although, it did take a bit to get into, once I was in I was absolutely swept away on their very emotional romance.
I did get annoyed at bits. Georgia was too prickly for me at parts, and Damon's health concerns were almost too much, leaving the ending hopeful rather than totally content and happy. But I loved him, I understood his development, and I badly wanted both their happiness with one another.
The community created around Damon, too, was wonderful to be in. I loved the support, love, and trust they all gave one another. And it was an interesting read as Damon struggled through his insecurities and his friends. In the end I enjoyed Georgia as well, how she grew out of her shyness with Damon, but the true star of the story is Damon.
Book Info:

Publication: November 8, 2015 | Escape Publishing | Love Triumphs #3
Love can be a great healer, except when it hurts…
As voice actor royalty, Damon Donovan is trouble. He's professionally intimidating. He's confident. He's charming, funny and genuinely talented. And he triggers the nurturing instincts newly separated Georgia Fairweather has sworn to ignore.
Damon Donovan is used to three types of women: those who fawn, those who mother and those who want to fix him. So a reticent, prickly engineer he can neither awe nor charm triggers his interest.
A recording engineer and a voice actor should be a match to sing about, but the thrilling rhythm they create is soon drowned out by static. Georgia doesn't know who she is, and Damon doesn't know who he'll become.
Can a man facing his insecurities and a woman afraid of her own instincts harmonise, or are they destined to sound good in theory, but be out of sync in life and love?