In Once Upon A Bad Boy by Melonie Johnson, actress Sadie Gold is ready to take her acting from a soap opera to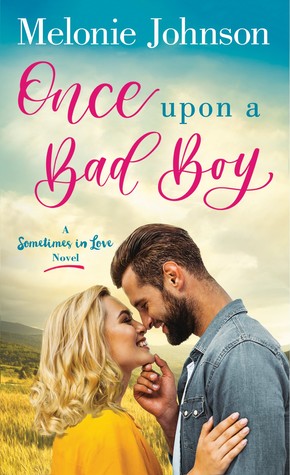 the big screen. She's excited to be filming her first big movie, until she realizes who the stunt coordinator is.
Bo Ibarra broke Sadie's heart when he dumped her the night of their prom, without giving her a real explanation as to why he had called off their relationship. He's never forgotten the girl he left behind, but can he convince her to give him a second chance?
Sadie and Bo came from different sides of the tracks. Her family had money, Bo's family had little, working for Sadie's family and living on the land. Sadie had dreams of acting and traveling, while Bo didn't want those things. As a result, he let her go, thinking he was doing the right thing. I felt for both of them. They both went through a lot that neither knew about shortly after the break up, yet they never stopped loving one another.
I disliked Bo's sister, Luna. Not only was she awful to Sadie when they were younger, she didn't pass on a message to Bo that Sadie had left him—a message that could have changed everything for the couple. Then, after they reconnect, she's awful to Sadie again. On one hand I understood her reasoning, but on the other, I felt she could have handled things better than sliding veiled insults in Sadie's direction every chance she got. She did get a little better towards the end of the book, but it was too little too late to redeem her character for me.
There's a leak on the set of the movie, which adds a little mystery to the story as Sadie and Bo try to figure out who's threatening to sell out Sadie's most personal secrets. I found this to be an interesting twist, as it reveals a big secret she never confided to Bo about.
I loved what Sadie's grandmother does for Bo's family. It's clear she thinks the world of them and appreciates all the hard work they put in at her estate over the years. It was a very generous gesture on her part.
This is the third book in the series. While Sadie has been introduced in the other books, this can be read as a standalone.
If you enjoy second chance romances, this is a book for you. It's well-written with great characters, a bit of mystery, and just the right amount of angst.
Book Info:

Publication: June 25, 2019 | St. Martin's Press | Sometimes In Love #3
Sadie Gold is ready to take her career to the next level with the role of a lifetime. Finally, she can shake her reputation as a pretty face with more wealth and connections than talent. But Sadie is not prepared for the wild turn her own life is about to take. The man in charge of training Sadie for her most demanding role yet is none other than her first real boyfriend—the one who took her heart and ran away.
Bo Ibarra is as good-looking and irresistible as ever. Maybe even more so, now that everything once worked against them—Sadie's pampered and privileged upbringing and Bo's childhood in a family struggling to make ends meet—is in the past. But the future is still unwritten…and getting there, together, means coming clean about painful secrets and slashing through nasty tabloid rumors while trying to control the attraction that crackles between them. Maybe it's finally time for them to walk off into the sunset and into a true and lasting love?