In Instamom by Chantel Guertin, Kit Kidding started her Instagram account @KitwithoutKids with the purpose of boosting other child-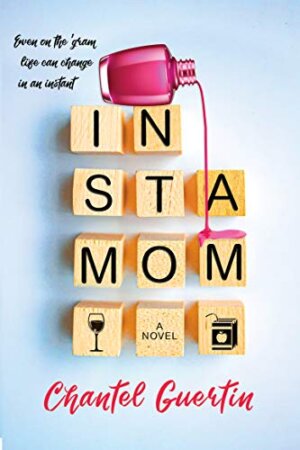 free women up, helping them believe in the choices they've made. Over the years she's connected with many talented, like-minded women who have been put down for their non-traditional views. But with every speech she gives, Kit hopes she can change the naysayers' opinions. Not an easy task. Her job as an influencer, one that started out with an altruistic goal, might bring a lot of perks with it–hello, gift cards and free merchandise–but it is an actual job. A time-consuming one at that. And one that's set Kit on a path that isn't easy to deviate from, which she learns first hand when she meets chef and single dad, Will
'What I don't get is, if Will knows I don't want kids, why is he even bothering to casually date me–or whatever we're doing?'
What was supposed to be a night of fun turns into something much more complicated between Kit and Will. He's not a fan of social media yet she has a highly successful Instagram presence. Will has an eight-year-old daughter, Addie, and would love to have more children but Kit made the decision a while ago to never have kids. As different as they are, the duo can tell they have something special between them. Something worth pursuing. But can Kit somehow balance a change in her beliefs, how it will affect her career, and dealing with serious emotions while Will faces the fact that he might never have a larger family?
'Maybe there are women like me–women who always wanted to be child-free, but then something changes. Someone changes them. And they wonder if maybe, the life they thought was the only way might not be the only way. If changing their mind is possible.'
A thoroughly contemporary romance between a child-free-by-choice Instagram influencer and a traditional single dad, Instamom poured on the angst and soul searching while asking readers to ponder if people can truly change their path in life.
'When did I become this superficial woman who's seen as a shallow influencer rather than a supporter of independent women?'
When I read the premise for Instamom I couldn't wait to dive in. I love books where one or more of the characters go through a fair amount of personal growth and really get to know themselves better. That definitely happened here. And it was not only Kit who figured things out but also Will by the end of the story. The fact that Kit was a public figure, with a huge following on social media, was where it all got really interesting–and complex–to see how that played into the choices she made.
I'll be honest that it was Kit's avoidance of commitment and her childishness a few times that kept this from being a higher rating. It took me the first third or so of the book before I felt like I really connected with her. And it was nothing to do with Chantel Guertin's writing–which was fun and flowed easily–nor was it the whole "child free" aspect, which I understood completely. It was Kit. Plain and simple. Once I warmed up to her, though, and she began to question her decisions as well as if she was being honest with herself, then it all clicked. It was at that point that I could see where she was coming from, with Kit's childhood creeping into how she handled situations in her daily life.
Will was a solid hero. I mean, what romance fan doesn't like a single dad who's sexy and who can cook (and does dishes! swoon), right? I thought the chaos he added to Kit's life was honestly just what she needed to get her head back in the game and start living her life for herself, not for her Instagram brand. The only downside with Will was that he was stuck in his ways. He didn't want to see things from Kit's perspective sometimes. But I liked how Guertin showed Will–and Kit and Addie–realistically, flaws and all. They *all* made mistakes. Even eight-year-old Addie. It brought them to a place where they could not only learn, but become better versions of themselves in the long run. And that's ultimately what counts.

QOTD: Have you read and enjoyed any books where social media plays a key role in the story?
Book Info:

Publication: Published June 29th 2021 | Kensington Books |
Fans of Lauren Weisberger and Emily Henry won't want to miss this funny, sexy, and emotional novel that looks at modern relationships, modern choices, and redefining—not to mention rebranding—your dreams, through the eyes of an Instagram influencer.
A PopSugar Beach Reads Selection
In this #funny, #wise, #emotionally compelling look at modern love and finding your true path, a proudly kid-free influencer meets the ultimate #dealbreaker . . .
It's the influencer's golden rule: know your niche. Kit Kidding has found hers on Instagram, where she gets paid to promote brands and share expertly curated posts about her fun, fabulous, child-free life. Kit likes kids just fine, but she passionately believes that women who choose not to become mothers shouldn't have to face guilt. Or judgement. Or really hot chefs who turn out to be single dads.
Will MacGregor is aggravating, sexy, persistent, averse to social media, and definitely a bad idea. As soon as Kit learns his parenting status, she vows to put their scorching one-night stand behind her and move on. But Will and Kit are thrown together on an Instagram campaign, and the more time she spends with him—and his whip-smart, eight-year-old daughter, Addie—the more difficult it is to stay away, much less sustain what Will so cleverly calls her "Resting Beach Face." Kit's picture-perfect career path is suddenly clashing with the possibility of a different future—messy, complicated, and real. Which life does she truly want? Will she have to re-invent herself? And will love still be waiting by the time she figures it out?