In Interference (Pilots Hockey #3) by Sophia Henry, Jason Taylor has never met a more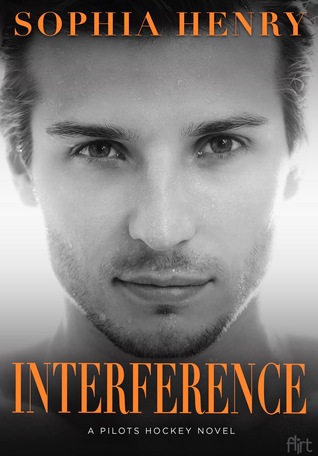 intriguing woman than Linden 'Indie' Meadows. Especially since she's not afraid to express her opinion, whether it's when she disagrees with his coaching decisions for her brother's hockey team, or when he's performing in his duties as a police officer. Unfortunately, Indie's not eager to get to know him and unless he can convince her to take a chance on him, their chance at happy ever after might slip them both by.
"It's obvious that you like me." Jason's blue eyes twinkled, catching light from the pendulum fixture hanging over the bar.
"I like looking at you," I countered, "but your personality leaves a bit to be desired."
"Really?" The skin around his eyes crinkled when he smiled.
"Let's pretend I'd ever say yes. Where would a cocky cop take someone on a first date?" I couldn't wait to hear what he thought was fun.
Ever since the hero of this story was introduced back in Delayed Penalty, book one of Ms. Henry's Pilot Hockey series, I've been waiting for Jason's story to be told, and this – his story – was everything I was hoping for and more. Right from the beginning, I was enthralled by the hero and heroine's interactions, as Indie is quite feisty the way she stands up for her brother; and I couldn't wait to see how else she challenged Jason. As it seemed he'd have his work cut out for him in convincing her to give him a chance.
As for the dialogue, Indie had me laughing with the way she interacts with Jason. She likes him, but it's hard for her to give him a chance when she has a kid and her little boy's father isn't the most reliable adult. Indeed, her child's dad has made her wary of men and she can't afford to let her son get attached to a man that's not going to stick around. However, while there were some really good light-hearted moments throughout this story between Indie and Jason, the dialogue did also become intense too. The fact that Indie decided to keep her son when she fell pregnant at a young age makes the hero bitter towards his biological mother that gave him up. I couldn't help but feel sorry for him, even though he had a good life with his adopted family. I also liked the fact that Indie helped him to deal, to prove that maybe his birth mother made the choice she did to make certain he had a good life. Better than the one she would have been able to provide him with, if she ended up keeping him. The heroine is really good for him, because she can give him perspective on being a woman that had a child young.
Both characters absolutely charmed me, as to, did the secondary ones. Sharon, the woman that adopted Jason is definitely one of those women that tell it like it is, and the moment where she expresses her opinion on whether Indie was giving attitude to Jason and whether he deserved it or not was fantastic. She had me smiling, because she's a fun mom.
Indie shrugged. "I'm in the pre-pharmacy program."
"A drug dealer and a cop. What a match."
"Opposites attract," Indie said in a teasing tone. "Believe it or not, I wanted to be a cop when I was younger. Had a fascination with crime and punishment."
"Isn't that literature?" I joked.
"Don't try to one-up me in useless information, copper. I already won that battle and I will continue to win every time."
Indie is strong, brave, feisty, and tenacious. She works hard to provide for her son, and it's lucky that she's got the support of her family to help. Because the father of her child is so hopeless that her and her son would be better off without him in their lives. He's immature, and only seems to care about himself. Did her son really need someone in his life that was so unreliable?
Whereas Jason is the complete opposite from her son's father, and I adored the moments between the hero and Indie's son. It was good that he wanted to get to know her son just as much as he wants to get to know Indie. Then there's the problem he needs to sort out with his foster brother; a man that is afraid he's losing Jason as well as his best friend, Aleksandr, to the same woman. Aleksandr is marrying her, while Jason recently learned that she's his biological sister. However, Jason is just as tight with his family as Indie is with hers, and he would never allow anything to come between the special bond he shares with his brother. Jason would always be there for him no matter what.
Overall, Ms. Henry has penned an incredible read where Jason's persistence in convincing Indie to take a chance on him brings some really hot kissing scenes, and a little bit of sweet-loving. In other words, the sex scenes are not graphic. Yet, there's definitely enough evidence through the dialogue and narrative that proves they've taken their relationship to a physical level. The way this story ended was wonderful, as Jason finally realized what he wanted most and decided to fight for it. He wasn't about to allow Indie's ex to mess up her life anymore than he already has. But what I liked most is how Indie's dreams came true both personally and academically, because if anyone deserved to be happy it was the heroine. I would recommend Interference by Sophia Henry, if you enjoy the opposites attract trope or have read the other books of this series.
Book Info:
Publication: Random House – Flirt | June 7th, 2016 |

Linden Meadows doesn't back down from anyone, especially if her family's involved. So when her little brother's new hockey coach benches him in the middle of a game, Linden lets him have it. She also notices that the coach is way hotter than she expects, but Linden won't let herself get burned by another athlete. Been there, done that—and had a kid at seventeen to show for it.
When Jason Taylor isn't taking abuse from hockey moms, he's patrolling the streets as a member of the Bridgeland PD. After Jason pulls Linden over for speeding, he begins to see that there's more to her than a big mouth . . . or a lead foot. Their chemistry leads to good company, intense conversation, and an intimacy that pushes beyond the boundaries of friendship. And yet Linden's decision to keep her now three-year-old son, Holden, is a painful reminder to Jason that his own mother gave him up for adoption.
Linden's sure she's found the man to round out their family. But when Holden's deadbeat dad forces his way back into the picture, Jason starts to back off. He needs time—to heal, to grow, and to love with all his heart.