One and Done by Melynda Price: Autumn is looking forward to an island getaway with her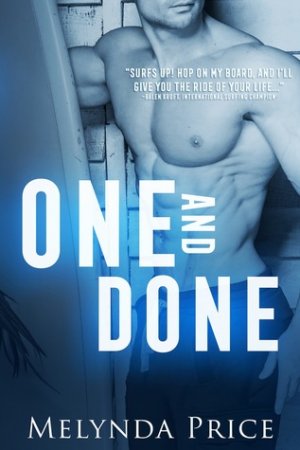 best friend. She's struggled to move past her crappy marriage and messy divorce, so this girls trip for her birthday is just what she needs. Autumn is sassy, afraid of flying, and has lost her sense of adventure.
Balen is a star on the international surfing scene. He's got money, fame, and endorsement deals that he's on the verge of losing after his playboy ways are caught on camera. Since the end of his engagement, Balen has been all about the one night stands and doesn't really care when a sex tape is posted on YouTube. He just wants to surf.
Autumn isn't sure how she's going to get through this vacation when her best friend has to skip their trip before the plane even takes off. Her best friend planned out the whole trip, with a number of activities outside of Autumn's comfort zone. Balen and Autumn don't exactly make the greatest first impression on each other, but both feel the immediate spark between them.
<<<quote>>>
"That one's going to cost you," she told him as he sat down across from her.
He flashed her a guilty grin. "The bail or the kiss?"
"Both. Hope you like lobster."
He chuckled and lifted his beer. "Totally worth it," he said, raising his bottle and giving her a toast before tipping it back.
<<<quote>>>
Balen needs to lay low and Autumn could use someone to push her to complete all the planned activities, so they agree to have hang out for the week. It seems like a great plan, except Autumn has no idea who Balen really is. They certainly grow closer as they complete each activity, but there is a lie between them. They become friends and more as they laugh, banter, and explore their chemistry.
<<<quote>>>
Balen laughed, and the deep rumble warmed her already overheated skin. "It's not a mountain."
"It feels like a mountain."
"And I'm not going to kill you."
"You will if I have a heart attack climbing this mountain."
<<<quote>>>
One and Done is a fun, entertaining, vacation romance. Melynda Price provided a good balance between a lighthearted vacation and delving into relationship baggage with banter, conflict, and heat. Ms. Price created entertaining characters to include their friends and family. Fans of A. M. Madden and Mia Sosa will enjoy One and Done.

Book Info:

Publication: December 12th 2017 | Amazon Digital Services LLC | Island of Love #1
"Surfs up! Hop on my board and I'll give you the ride of your life…"
~Balen Kroft, International Surfing Champion
"If you kiss enough frogs, eventually you're going to get a fungus."
~Autumn Harris
When Autumn's best friend surprises her with a girls' getaway in Cyprus for her 30th birthday, she makes up her mind that now is her time to shine. This is exactly the fresh start she needs to put the past and a messy divorce behind her. She might have bought into the ideology of Mr. Right once, but that myth was long busted—been there, done that—and she has the broken heart to prove it.
When a family emergency causes her bestie to bail on her minutes before their flight takes off, Autumn finds herself alone and bound for the "Island of Love." Her friend had an itinerary chock-full of girlfriend goodies planned—massages, salsa lessons, parasailing… Okay, maybe not parasailing, but this was going to be a week of fun, and now it's a week for one. Armed with her Best Friends Guide Book for Having Fun—and no best friend—Autumn plans to check into her beachside villa with her new BFF, Captain Morgan.
Being ranked one of the top surfers in the world does have its perks, but discovering your sex-tape was released on social media? Definitely not one of them. On the heels of a scandal that has sponsors threatening to cancel his contracts, Balen Kroft has strict instructions from his publicist to lie low for the next week while this whole fiasco blows over. Seven days of incognito before hitting the surf again at the Titans of Mavericks Invitational might not be such a bad thing—rest, relaxation, and fun in the sun… Until he comes face-to-face with his own personal riptide. If he's not careful, Autumn Harris may just pull him under.
The fiery ginger has no idea who Balen is and he's determined to keep it that way. After the last eight months and a series of self-destructive behaviors, he's content to let her believe he's a homeless, beach-bumming surfer, living a carefree life one day at a time.
Autumn's sexy vagabond is just charming enough to convince her to let him crash in the spare room of her villa. In exchange, he offers to be her new bestie for the week, taking her on all the excursions her friend had planned. It's a tempting offer… Her own personal tour guide and the possibility of some hot, no-strings, surfer-guy sex? What woman in her right mind would turn that down? She's a big girl who knows the score. What can possibly go wrong?