In Irresistible Bargain with the Greek by Julia James, Heiress Talia Grantham is very careful when it comes to her social life, as her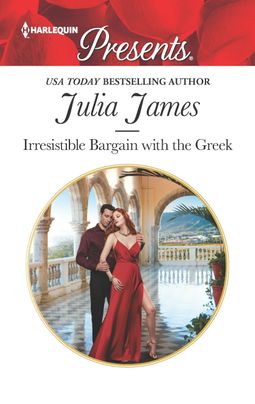 controlling father has his own thoughts on who she should see and even how she should dress. So when she takes a chance and has an incredible one-off with a dashing businessman, she's quite sure they will never meet again. Then Talia's world crumbles, leaving her nearly penniless. And who is to blame? None other than Luke Xenakis, the man with whom she shared that night of passion. Luke was as shocked as Talia when it turned out his nemesis was her father, leaving him scrambling for a way to remain in contact with her even though he doesn't necessarily trust her. Can an agreement be made so Talia can retain her dignity along with some family assets without either she or Luke succumbing to their attraction?
Her voice was full of a joy that blazed like the sun, and Luke's heart felt suddenly whole for the first time he could remember.
Irresistible Bargain with the Greek was full of the angsty, passionate goodness I expect out of Julia James' writing. With a theme of revenge, along with a one-night stand that took our hero and heroine completely by surprise, sparks of all kinds were guaranteed to fly.
'The room disappeared. The world disappeared. Everything disappeared. She drowned in his kiss. It was unbearable to kiss him and unthinkable not to.'
Julia James took us from the UK to Europe, the Caribbean, and back while our couple fought their attraction at every single turn. And I do mean every turn. Theirs was a case of very little communication and lots of assumptions that led to many issues between them, which at times was a bit frustrating. Without giving too much away, Talia and Luke had bad blood between their families–unbeknownst to Talia. So everything that happened when Luke took over her father's business came as a complete shock to her. Their initial meeting (read: hookup) at a party was all kinds of steamy and I thought it brought out the best of their personalities. Their subsequent meetings? Not so much. But boy was it fun to watch the dramatics through Luke and Talia's battle of wills. Especially knowing that they'd have a HEA of epic proportions once it was all said and done.
I think fans of sweeping, almost soap opera-ish romances that feature larger-than-life characters and beautiful locales will fall easily into Irresistible Bargain with the Greek.
Book Info:

Publication: August 20th 2019 | Harlequin Presents |
She ran from their attraction…
But can she resist the billionaire's deal?
Dutiful heiress Talia Grantham shared one earth-shattering evening with sinful stranger Luke Xenakis, knowing that they could never be anything more. So she's stunned when the enigmatic Greek returns, having bought her father's business out from under him! Arrogant Luke offers Talia a job to save her family home… She can't turn down the arrangement—or deny their inescapable, life-changing chemistry!
Escape with this intense revenge romance…