Lethal Nights by Lora Leigh finds Emma Jane Preston needing help after people stormed into her house and shot up her bedroom. In comes Ilya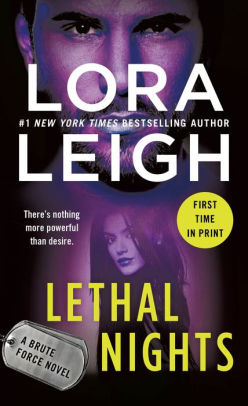 Dragonovich, aka Dragon, a security agent for Brute Force. Dragon has had his eyes on Emma Jane for a while, but the last time they met she was going through a divorce in which she almost lost her house, until Brute Force stepped in. Now that she's single, Dragon isn't going to let anything get in his way, even if it means taking out those who are threatening Emma Jane.
I really enjoyed the suspense and mystery of this story. I thought it moved at a good pace and kept me engaged and wanting to read more. There's a light paranormal aspect to it, as Dragon is able to sense when other members of the Dragon gypsy group are nearby, and he hears what is called "The Dragon Song". Still, it wasn't overwhelming to the point where it took away from the story.
I felt for Dragon and what he went through, however, I felt like it wasn't really explained why his uncle and his best friend's father scarred his face when he was child, or why his mother allowed it. It seemed like more time was spent explaining the Dragonovich side of his family and the legend of the Dragons. I would have liked to have a better understanding of what took place, other than they did it because he looked like his father. It was very vague and left me feeling like I was missing something about Dragon's past. I haven't read the previous book in the series so I can't say if it was mentioned in it, but I don't recall it being covered in the first book of the series, which I did read.
I liked Emma Jane. Where most people were afraid of Dragon, she had no problem looking him in the eye, calling him out on things, or talking about the dragon tattoo on his face, which Emma Jane believed to have life-like qualities.
"I must admit though, I don't think I've ever had a beautiful woman call me pretty."
Was that amusement gleaming in his eyes? The faintest hint of a smile at his lips?
"It's the dragon." She shrugged, narrowing her eyes on the iridescent scaled face. "I think he's flirting with me."==
Still, with Emma Jane, too, I felt like I was missing something. The sheriff seemed very protective of her for just being the sister of his friend. I would have liked to have known why that was, but it's not explained, either.
Despite the fact I felt like I was missing some of the background for both of the characters, I enjoyed the book overall. The characters were interesting and there was a good blend of suspense and romance with just a little bit of paranormal mixed in. Fans of romantic suspense will enjoy this one.
Book Info:

Publication: September 24th 2019 | St. Martin's Paperbacks | Brute Force #3
Ilya Dragonovich is no stranger to the dark side. As a safe-house owner for security agency Brute Force, Dragon knows that the battle line between good and evil runs through the heart of every man―and, sometimes, a beautiful woman…
Emma Jane Preston needs help. After her marriage crumbled, she believed she could get back to a normal, happy life. But her ex-husband moved among some shady characters, and now she needs the kind of protection that comes at a cost―one that only someone like Dragon can provide. But can Emma Jane trust this handsome, undercover operator to keep her safe when she is in danger of falling into the arms of the deeply seductive, fiery Dragon. . .and never letting go?