In It Had to Be You (Lucky Harbor #7) by Jill Shalvis, Ali Winters is really enjoying her life in Lucky Harbor. She has a job as a florist that she loves and she lives with her charming, handsome boyfriend Teddy. That is until he abruptly ends their relationship, leaving her basically homeless. Luke Hanover, the owner of the house they've been leasing, shows up unannounced expecting he'll be able to stay there alone for a few weeks. Ali is sent scrambling to find another place to stay on top of dealing with her issues with her ex.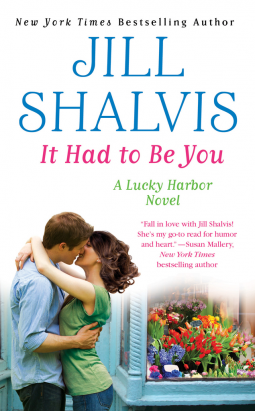 Ali's luck gets a whole lot worse when she's accused of a crime she didn't commit. Lucky for her Luke is a cop from San Francisco who, out of the goodness of his heart, steps in on her behalf. She has a hard time accepting help, though, and it seems especially so from intense (and sexy) Luke. She doesn't want to admit her attraction to him so close to her break up with Teddy but it is undeniable whenever they're together. Ali also finds that the more intense the legal situation gets, the more she and Luke are driven into each others arms.
"What would it be like to have such a man belong to her? To belong to him? To kiss that mouth, feel it open under hers, feel it on her?"
Luke Hanover just wants peace and quiet. He's traveled to Lucky Harbor for a few weeks of R&R after a tough case he headed up on the San Francisco Police Department. Luke has been leasing out his grandmother's house which is now supposed to be vacant. However when he arrives, he is greeted by a beautiful scantily clad woman yelling into her phone. Even though everything is screaming inside him to send her packing, he allows her to stay, temporarily, until she can find a place of her own.
"He stroked a finger along her temple, tucking a strand of hair behind her ear for the sheer pleasure of touching her. Then he leaned in for a kiss. She tasted like chocolate and trouble."
Ali is going through a tough time and unfortunately things just keep getting worse. He is absolutely amazed at her ability to stay positive and so strong in the face of all that's happening. Luke is also seriously attracted to her. But not just her body…she is smart, funny and protective of him, sticking up for him when no one else will. He's afraid to let his guard down and let her in but he might find out too late that she's already worked her way into his heart.
Jill Shalvis has written another knockout story with It Had to Be You. It is funny, sexy and has (of course) wonderful small town charm. I connected right away with both Ali and Luke: Ali is smart and tough as nails yet has a huge heart; and Luke is a bit jaded by his job, feels most at peace on the water and is protective of the people he cares for. I loved that even though this is book seven in the Lucky Harbor series, it is extremely easy to just pick up and read as a stand alone.
I'm definitely looking forward to what comes up next in this series!
Book Info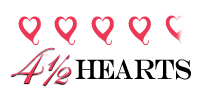 Buy links: A | BN |
Publisher: Grand Central Publishing Release date: May 28, 2013 | Series: Lucky Harbor
Ali Winters is not having a good day. Her boyfriend left her, everyone in town thinks she's a thief, and now she's about to be kicked out of her home. Her only shot at keeping a roof over her head and clearing her name is to beg for help from a police detective who's as sexy as he is stern….
After a high-profile case goes wrong, Luke Hanover returns to his hometown for some peace and quiet. Instead he finds a bombshell brunette in a heap of trouble. As he helps Ali put her world back together, the pieces of Luke's own life finally seem to fall into place. Is this the start of a sizzling fling? Or are Luke and Ali on the brink of something big in a little town called Lucky Harbor?