When Honey Got Married by Kimberly Lang, Anna Cleary, Kelly Hunter, Ally Blake gives us 4 great romances, all interwoven around Honey's high society wedding to Brent. We are taken into the wedding weekend in the lives of 4 women…
Grace changed her name and left Bellefleur right after high school graduation. She was full of teenage angst, misinterpretation and sensitivity. She has held a grudge for way too long against a lot of the people she went to high school with…including Beau who put stars in her eyes then and now (much to her chagrin!). Grace is now a wedding planner and gets hooked into planning Honey's wedding in Bellefleur…the place she vowed never to set foot in again. She runs into Beau almost immediately, after all he is the chef for the wedding. To Grace's surprise, she realizes the people she held responsible for her unhappiness have matured quite a bit over the years she's been gone. And spending time with Beau proves to her that he heats up more than the kitchen! But Grace is having a hard time resolving her issues and this time around Beau had
"…been thinking there was something interesting starting between them, and Grace considered him an old ghost needing burying. He felt more than just a little foolish. And a little bit used, as well."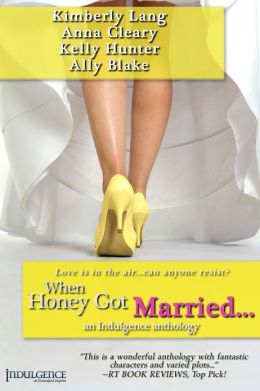 Grace is going to need to resolve her feelings about the past if she is to move forward and have a future of happiness.
Eve, one of Honey's high school friends and a former employee of Brent's, is secretly lusting after the groom. She has put him on a pedestal in her head and is sure he is really meant for her. Eve has taken one kiss from Brent and run with it! She is sure he is making the biggest mistake of his life and that it's her he's meant to be with! Enter Raine (wow!), Brent's cousin, who with one look at Eve knows what he wants too…and he's used to getting what he wants! Eve gets Raine to agree to her scheme to get Brent alone…but there is a price for it! Raine wants payment first, just a kiss. That kiss is not just a kiss and Raine and Eve really heat things up!
"His glance met hers, sensual, bold, then slid down her throat to where her breasts were innocently longing to expose themselves. Against all the odds, her skin tingled as if singed by a naked flame."
After that how can Eve look at Brent the same, knowing how Raine makes her feel? Will Eve finally be able to move on from her almost obsessiveness for Brent? Raine just be more of the man for her if she'll take the chance…
Next we meet Honey's sister Nina. Nina thinks of herself as the black sheep of the family…she does what makes her happy even when it means others are not happy for or with her! She really did run away to join the circus and loves it. She meets Alex when he comes to work at the circus, feeling the electricity between them right away. She manages to convince herself it's only her feeling it, Alex is the kind of guy that everyone likes! Nina decides friendship is better than taking a chance on letting her feelings known to him, and over 2 years they become friends as well as co-workers. Nina is terrified at the thought of going to Honey's wedding on her own, and when Alex offers to go with her she takes him up on his offer. As they head off to the wedding weekend though, it gets harder and harder to deny the feelings she has for Alex, and soon that is no longer an option!
"She could feel his hair beneath her fingertips and the warmth of his skin. The weight of his gaze. So many things she shouldnt' be feeling…that she'd tried so hard not to feel for this man…"
Alex has been in love with Nina since he met her and is going to make this weekend his time to show her that. And show her that he does!! Alex has a little surprise about his true self though…will Nina still want him when she finds out? Will this new smoldering relationship with Alex stand a chance after this weekend?
Finally we meet Pippa. Pippa also left Bellefleur in the dust years ago. She needed to move on from the bad memories, even if it meant also leaving the good ones. When she left, she also left Brent, who had just proposed to her at the time! Coming back for the wedding and seeing everyone again is something Pippa feels she must finally do, even just to see that Brent is ok. When she gets to the wedding though, a bad case of nerves has her grabbing onto the first available looking guy she sees…who also happens to be Brent's brother Griffin. The same Griffin who made her blood boil in a way that Brent never did! Griff has been drawn to Pippa since he first met her and with them both available now he is going to make the most of it! Will Pippa find it in herself to stick around this time and follow her heart?
"…looking up at him in the dying sunlight, so tall, so broad, so beautiful, so strong, so deeply entrenched in the best and worst parts of her life, she knew she couldn't ignore him for all the money in the world."
Honey and Brent are strong secondary characters throughout this book. We get glimpses of a nervous, anxious, insecure Honey, and Brent who doesn't give much away! In conclusion to these great stories we get some follow up on Honey and Brent which was a perfect way to end When Honey Got Married.
I had a hard time tolerating Grace and Eve, they both came across as quite immature and at first I felt like I was reading a book for a much younger audience. I liked how we saw them mature even in just this short time frame though. Nina and Pippa I both really liked, but Nina was definitely my favorite! She wasn't running away, she was following her heart, her dreams, her happiness. She was very hurt by her treatment by her family and some people in town, but managed to rise above it. It goes without saying that all of the men I absolutely loved! They knew what they wanted and went for it!
There were a lot of secondary characters in When Honey Got Married. I had a bit of a hard time following them and understanding the undercurrents due to past events.
When Honey Got Married was a fun, fast paced, very sexy read! As I said the first two books felt like they were for a much younger audience, but by the time I got into the 3rd book I was hooked, laughing out loud and hoping they'd all get their Happily Ever After.
I loved that even though there were 4 stories by 4 different authors, all the stories were seamless and interwoven so well. All of the characters came together within the 4 stories. The authors managed to keep the romance going and the steam rising!
Book Info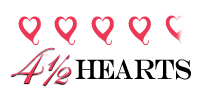 Publisher: Entangled: Indulgence (May 1, 2013)
Four high school friends and a high society bride reunite to celebrate the wedding of the year with the sexy, successful men who steal their hearts and set their skin aflame…
A wedding planner should never mix business and pleasure, but Grace couldn't resist breaking rule number one for a hot night with her high school crush!
Eve hoped to make one last play for the groom-who-got-away…but instead the down-on-her-romantic-luck actress instead found herself in dark corners with his successful, seductive cousin.
The sister of the bride needed a date of convenience and who better than her hazel-eyed, mysterious co-worker? If only Nina could keep her hands off his perfect body until she learned his true identity…
The groom proposed to her eight years earlier, but it was the steamy kiss that Pippa shared with his brother the night she left town that haunted her memories.  Now she's back and sharing much more than just kisses.
Nothing was going to ruin Honey's wedding to the man of her dreams.  And she has just the wedding surprise for her beloved groom!