Italian Affair by Annie Seaton: Brianna, adopted at birth, has never felt like she truly fit in with her family. She has searched for her birth mother to no avail, much to her disappointment. Italian Affair begins when Brianna has made her way to Australia from her homeland Scotland, to finish writing her sex therapy book. She has just got there when she receives a letter from her birth mother's lawyer…it has bounced around the post following her. When she finally receives it she has just days to get to the island of Lipari in Italy to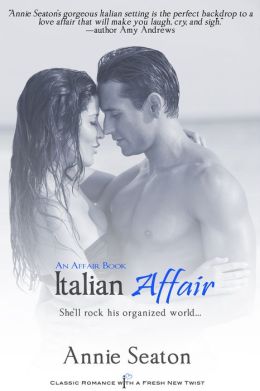 claim the inheritance left to her. There is just one catch to the inheritance of her mother's home though…Brianna must be married. Brianna is as single as they come though, but without a though she heads to Italy, thinking somehow she'll pull this off.
Brianna ends up seated next to Tom on her long flight to Italy. Tom has always been a rule follower, organized and business obsessed. He has finally had enough of how his life has been and is moving to Italy to run the boat business he bought from his aunt. Brianna and Tom are total opposites…she can't believe he's wearing a suit and making lists, and he can't believe how unorganized and unplanned her trip is! They rub each other the wrong way, but also the right way and they are both intrigued by the other.
By coincidence or fate, they are both travelling to Lispro. They decide to travel to their final destination together, Tom agreeing to help Brianna out at the lawyers with translation…and by pretending to be her fiancee. Things move very quickly though, and quicker than either of them can think they are getting married. Of course, it's only a temporary arrangement so that Brianna can inherit her birth mother's house. It also gets Tom out of his match making aunt's clutches, and he gets to help a beautiful lady out. Soon though, they both feel things are spiralling out of control. What's supposed to be a business arrangement takes on a whole new meaning when the heat between them can't be denied. In a twist that differs from many romantic plots, it's Brianna who's happy to have a no strings attached friends with benefits relationship…something Tom is not comfortable with. They manage to settle into a fun, 'temporary' relationship…and soon Brianna is becoming more organized thanks to Tom, and he is becoming much more relaxed and laid back.
The more time they spend together, the more their feelings are growing for one another. Neither one of them is ready to admit it to the other though, and when Tom has to leave and go home because of a family tragedy, both of them miss each other more than they'd thought they would. Still, Brianna is determined to make a clean break now that Tom's gone, and disappears before he comes back to Lispro and the life they've created together. Tom is convinced they belong together though…now if only he can help Brianna see this too.
I loved meeting Brianna's big Italian family with her, and the different personalities from her doubting Grandfather to her welcoming aunt. Annie gives us just enough background of both Brianna and Tom that you definitely don't have to read the first book in this series before reading this one (I didn't).
Italian Affair was a funny, sweet romance and I found myself really hoping Tom and Brianna would see they were meant to be together! Brianna is fun, spontaneous, and has a big heart. She is open and honest about most things…except when she is in denial about her feelings for Tom! She's very comfortable with her sexuality which I loved! Tom is the organized, more rigid minded hero…but something about Brianna makes all that go out the window and he finds himself relaxing and following his heart more and more. I really think Tom and Brianna bring out the best in each other! Things moved really quickly with Tom and Brianna…at first for show until it started growing into more…and I think things like this could happen!
I also loved Annie's descriptive writing of Lispro and the villa, the streets, the coffee shops…I could easily feel like I was there!
Book Info
Publisher: Entangled: Indulgence (June 10, 2013)
Free-spirited sex therapist Brianna Ballantine has four days to find a fiancé so she can inherit her birth mother's Italian villa. Commitment is not on the agenda. Writing her sex therapy book and signing legal papers are. And once all is said and done, she'll return home to Scotland.
For finance guru Tomas Richards, relationships have been a bad investment—give him stocks and shares any day. When Tomas offers a marriage of convenience to help Brianna secure her inheritance, the sizzle between the sheets promises an affair to remember, despite family complications at every turn.
But Tom must convince Brianna to stay, and make this Italian affair a lifelong commitment.