In Recipe for Disaster by Nina Harrington, Bunty Brannigan is turning thirty years old today. Her plans to have a nice (but rowdy) London evening with her closest friends gets turned upside down when she is served papers by hunky lawyer Fabio Rossi. It turns out he works for her estranged family, the Carusos, in Italy. Since Bunty already had a run in with her cousin Luca earlier in the day, she assumes it is the contract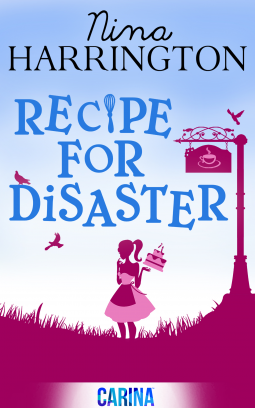 he referred to when he offered her a partnership of sorts. Luca is a celebrity chef, albeit one who cannot cook, and Bunty has been ghost writing his recipes while he takes all the glory. She is finally ready to move on with her life now that her current contract with Luca is ending and wants to try expanding her own business: Brannigan's Deli, into other parts of London. She wants to carry on the traditions her parents began when they opened the deli by creating ready made authentic meals, which already sell very nicely in local restaurants.
"Things to do today:
-find a Rottweiler of a lawyer who speaks Italian;
-sack my so-called relatives;
-throw said relatives out of their houses and take them for every penny they have;
-press charges and let Luca Caruso and his lying, cheating and conniving mercenary minion Fabio rot in jail for as long as possible"
Bunty stubbornly puts her foot down when Fabio explains he has strict orders to stay with her until she reads the documents. This means he spends his time in the back of her kitchen at Brannigan's, observing her while she cooks, which proves to be quite a distraction. When Bunty decides to read the legal paperwork, she is flabbergasted to learn she has received an inheritance from her grandmother, who had set everything up to be delivered to her on her thirtieth birthday. Bunty gets controlling shares in Caruso Foods, the family business in Milan, property, jewellery and a trust fund. She has never been close to the Caruso clan and has had to scrape, save and work hard for everything in her life. So obviously she's shocked by the news.
Luca and her Uncle Paolo are notified once she opens the packet and family chaos ensues. Luca is furious that Bunty now controls the company and feels that he is the one entitled to inherit the family business, saying their grandmother had told him numerous times she would hand it over to him when he turned thirty. He tries to manipulate Bunty any way he can think of, but she was already expecting Luca to behave in such a manner and throws his words back in his face. Through all the turmoil, Bunty grows closer to Fabio and their attraction grows, but she begins to worry if he is really on her side or if he still has ties to Luca and Paolo. She makes a bold decision when it appears Fabio shows her his true colors getting into mischief with Luca. Then she starts to wonder, should she cut Fabio out of her life for good or should she allow him to explain himself?
"He hadn't planned to kiss her, touch her. But what had truly astounded him was how she had responded. Out of the blue, in her own kitchen. The warmth and sensation of her body in his arms had reached inside and grabbed him around the heart and gut and given him a taste of something real."
Fabio Rossi has been through the ringer the last couple of years. He was living in California with a beautiful wife and a legal career on the fast track. Then his recreational poker playing turned into an addiction, and after losing a lot of money, his wife couldn't tolerate it anymore so they ended in divorce. It unfortunately became difficult for Fabio to find a job with his reputation so while he is trying to start his own law firm with a good friend, he has been working with his father and brother in Milan at the family firm. He doesn't realize what he's getting into when he agrees to play messenger and serve Bunty Brannigan at her birthday party. Not only does she send him away after Fabio explains the need to be there when she reads the documents, but he is blown away by her beauty and her ability to be so open and forthright. He agrees to help Bunty through the legal process and deal with her inheritance. But the Carusos are also trying to pull a few strings to ensure they come out as winners. Fabio must be careful not to choose sides and to be impartial in his job, but his feelings for Bunty keep his mind muddled. He's already lost a woman he loved before and he will do everything he can now to ensure he doesn't lose this incredible woman.
This is an entertaining read full of wonderful, engaging characters. (And lots of authentic yummy sounding food!!) Nina Harrington did a great job with the pace of the story and kept it lighthearted even though it is filled with family tiffs, personal struggles and lots of emotions. The attraction between Bunty and Fabio seemed realistic and slowly grew throughout the book in the midst of all the family drama. This would definitely be a great book to take with you to the beach!
Book Info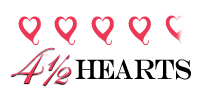 Publisher: Carina (July 31, 2013)
Take one estranged Italian family, a celebrity chef cousin, add a secret inheritance, a pinch of family rivalry and a red hot hunk for taste. Mix and simmer until boiling point! Bunty Brannigan knew turning thirty would be tough, but she never expected her life would unravel before the candles on her cake had been blown out… But before Bunty can say Mozzarella, she discovers that she is in line to inherit controlling shares in the Caruso family business and someone has attacked her charming celebrity chef cousin Luca in her deli. Throw in a sizzling hot Italian lawyer and her birthday has turned Bunty's world upside down!