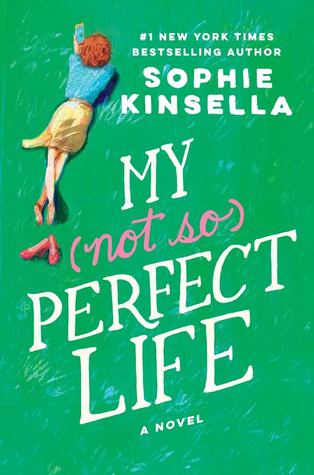 In My Not So Perfect Life by Sophie Kinsella, Growing up on a farm in Somerset, Katie Brenner dreamed her whole life of moving to London and becoming successful. Now in her mid-twenties and living just outside of London, she's determined to move up the ranks at Cooper Clemmow, a branding and strategy agency, and dazzle them with her ideas. The ideas, she has in spades. The dazzle part? Not so much. Mostly thanks to Katie's boss Demeter Farlowe who can't be bothered to give a lowly research associate the time of day. Well, until she needs her roots dyed. And that's the beginning of the end for Katie at Cooper Clemmow when she's fired soon after.
'Ansters Farm is like a circle. It is what it is. And you basically go round and round in a peaceful way, never digressing. But London's like a spiderweb. There's a million possibilities, a million directions, a million endgames.'
Reeling from the loss of her paying job and the end of a possible new romance, Katie begins applying elsewhere with no success. When her father and stepmum insist they need her help in Somerset, she begrudgingly heads home. But the country air and the hard work of setting up her folks 'glamping' business venture proves to be exactly what she needs to clear her head. So when her former boss shows up with her perfect family in tow, Katie knows the chance to get even is at hand. But when she truly gets to know Demeter, she figures out that things aren't always what they seem at first, just like the embellished Instagram photos she herself posts. Maybe the ideal life she's been reaching for isn't so far out of her grasp after all.
'All I could see before was the nightmare boss with a perfect, glossy life. But now what do I see? Just a person. A person with hang-ups and problems and flaws like the rest of us. Who's basically trying to do her best, even if it comes out badly.'
Lighthearted, refreshing, and effortlessly witty, My Not So Perfect Life is the newest offering by uber-talented Sophie Kinsella. I think readers will find that this standalone novel will have them laughing, fretting, and cheering on Katie in her winding journey to reach her dream of becoming a Londoner.
'Loads of people use colored filters or whatever on Instagram. Well, my filter is the "this is how I'd like it to be" filter.
…And the point is, it's something to aspire to, something to hope for. One day my life IS going to match my posts. One day.'
I was completely charmed by Katie as we followed along with the ups and downs of her life. I mean, how can you not like a young woman willing to put in the hard work to follow her dreams? And Katie did just that. She had a vision of what she wanted for her career and she put up with rude flatmates, a killer commute, office tension, and a scatterbrained boss to get there. What I loved most about her was that she always meant well. Even when Katie made mistakes, she started off with the best of intentions–but then of course things would spiral out of control as they often can in real life. And that made me want to befriend her all the more, for her genuineness and her loyalty.
The secondary characters were every bit as well written as our protagonist was and were an integral part of the story overall. I came to adore Katie's father and stepmum. They kept me giggling with their antics but it was the devotion and love they had for Katie that warmed my heart. And on the work-side, I loved that she learned not to take people at face value. Whether it was her boss Demeter, her boss Alex, or coworkers Flora, Sarah and Rosa, Katie realized that everyone has problems in their life and that not even those who seemingly have it all truly ever do.
Whether this is your first foray into Sophie Kinsella's work or if you're already a devoted fan, you will surely be delighted with this often comical and thoroughly enjoyable tale. Friendships were forged and tested, jobs lost and won, but it was the life lessons learned along the way that will resonate most with readers.
Book Info:

 Expected publication: February 7th 2017 | by The Dial Press |
Part love story, part workplace dramedy, part witty critique of the false judgments we make in a social-media-obsessed world, this is New York Times bestselling author Sophie Kinsella's most timely and sharply observed novel yet.
Everywhere Katie Brenner looks, someone else is living the life she longs for, particularly her boss, Demeter Farlowe. Demeter is brilliant and creative, lives with her perfect family in a posh townhouse, and wears the coolest clothes. Katie's life, meanwhile, is a daily struggle—from her dismal rental to her oddball flatmates to the tense office politics she's trying to negotiate. The final, demeaning straw comes when Demeter makes Katie dye her roots in the office. No wonder Katie takes refuge in not-quite-true Instagram posts, especially as she's desperate to make her dad proud.
Then, just as she's finding her feet—not to mention a possible new romance—the worst happens. Demeter fires Katie. Shattered but determined to stay positive, Katie retreats to her family's farm in Somerset to help them set up a vacation business. London has never seemed so far away—until Demeter unexpectedly turns up as a guest. Secrets are spilled and relationships rejiggered, and as the stakes for Katie's future get higher, she must question her own assumptions about what makes for a truly meaningful life.
Sophie Kinsella is celebrated for her vibrant, relatable characters and her great storytelling gifts. Now she returns with all of the wit, warmth, and wisdom that are the hallmarks of her bestsellers to spin this fresh, modern story about presenting the perfect life when the reality is far from the image.