Jar Of Dreams by Liz Flaherty is a very pleasant, endearingly quaint, small town yarn, full of wishes and dreams come true!
Boone Brennan having received an urgent missive from his sister stating that their aunts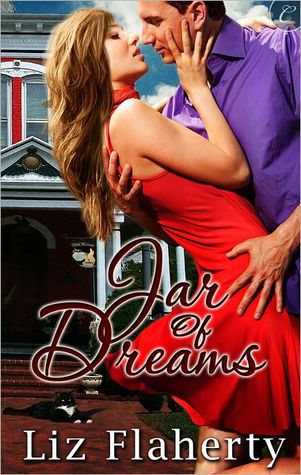 health is failing has hastily returned home to Taft, Indiana.  Expecting to find his aunt in frail condition, Boone is surprised to find that his aunt seems to be in good shape.  Unbeknownst to him his aunt has opened a tea room at her home, and has a new border, and business partner.   Boone finds Lucy Dolan quite attractive, but he doesn't trust her, and he wonders if she is after his aunt's money.
Lucy has left big city life for small town living after the death of her father.   Things seem to be looking up for Lucy when Boone blows in to town and upsets her happy balance. She finds Boone striking but is hesitant to get involved with him.  When a string of fires break out over Taft, Lucy is suspected in having something to do with them.  Can she convince Boone and the residence of Taft that she is not responsible for the fires that are plaguing the town, and will she and Boone both be able to leave their demons behind so that they can find love again?
Jar Of Dreams is small town romance at its best! It is filled with a cast of quirky, loveable characters that I wanted to get to know in real life.  The romance between Boone and Lucy is emotionally satisfying and the mystery of the fires kept me guessing until the very end. If you like the stories of Robyn Carr and Linda Lael Miller, I think that you will love this highly entertaining book!
Rating: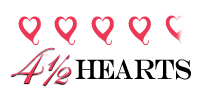 Book Info: Publisher: Carina Press (January 14, 2013)
For as long as she can remember, Lucy Dolan has been jotting down her hopes on slips of paper and saving them in a pickle jar—her jar of dreams. It was the first thing she saved when the beloved family diner went up in flames, and it's safely buckled in her beat-up minivan when she lands in Taft, Indiana, to start over. She rents a room and goes into business with her landlady, but then Gert's nephew comes charging in to "rescue" his aunt.
Boone Brennan will be damned if he'll let Lucy take advantage of Aunt Gert, who raised him and his sister. Believing that she's just passing through, he's deeply suspicious of her—despite the sparks that fly between them.
Just as Boone and Lucy are starting to open up to each other, a series of fires throws Lucy under suspicion. Boone wants to trust her and his feelings, but with the whole town against her, will he stay by her side? Or will Lucy move on and find another place to make her dreams come true?
74,000 words