In Johanna's Bridegroom by Emma Miller, Johanna has been widowed for two years now and knows that she must marry and find a provider and father figure for her children. It's part of their Amish believes, but she does not want to marry again. Her marriage was violent and she does not want to subject her children to the possibility of that again.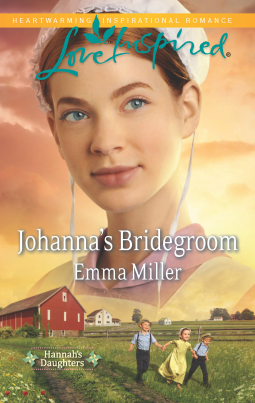 Roland Byler is a sought after widower. He is able to provide for a family and take good care of them. But he doesn't want just anybody to be a mother his children, he wants the love of his life whom he lost in a dumb young adult mistake.
As Johanna and Roland grow closer because of their children, Johanna starts doubting her decision of never forgiving Roland for his mistake. He is a good father and he can also be a good father to her children and a great husband who would never raise a hand towards her.
Johanna will have to learn that forgiveness is something needed for happiness and that unless she can forgive and forget the past she won't be able to truly be happy. Roland wants true love, not another arranged marriage and his patience will be rewarded.
If you want an entertaining and sweet romance you will like Johanna's Bridegroom by Emma Miller.
Book Info
Publication Date: April 23, 2013 | Series: Love Inspired
Will You Marry Me?Bold widow Johanna Yoder stuns Roland Byler when she asks him to be her husband. To Johanna, it seems very sensible that they marry. She has two children, and he has a son. Why shouldn't their families become one? But the widower has never forgotten his long-ago love for her; it was his foolish mistake that split them apart. This could be a fresh start for both of them. Until she reveals she wants a marriage of convenience only. It's up to Roland to woo the stubborn Johanna and convince her to accept him as her groom in her home and in her heart.