Wounded Angel by Stacy Gail: Seriously, Stacy Gail is about to be put on my favorite authors list! I've REALLY enjoyed the Earth Angels series (the ones I've read anyways). The title is very appropriate because both the hero and the heroine are really wounded individuals.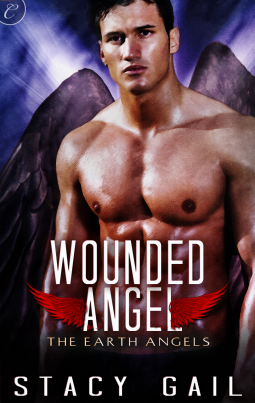 Wow, our heroine, Ella, has a seriously jacked up past. I don't want to reveal too much about what exactly is in her past because it seemed to me that it might have been part of the mystery of the book? I'm not really sure but just in case, I don't want to ruin it for anyone. But I think I can safely say that Ella is scarred emotionally and physically, like, A LOT. One of the things I love about Ella though (of course) is how she's come back from her traumatic history and has become a seriously kick ass woman. She TEACHES a self defense class at the gym she works at. Yeah, she's THAT good! Ella is nothing if not a survivor. And she shows you that over and over in this book. No matter what crazy shit happens, she reacts like anyone would (occasionally tossing her "cookies") and then she picks herself up and keeps on truckin'. She has closed off her heart and has vowed to not trust anyone and she's doing a great job at it. Ella doesn't really have any friends. She's close to her boss, Phoebe and her co-worker, Jacob but only because she had to reveal her truth to them when her past threatened her present. But other than that? No one. So when this gorgeous, giant specimen of male perfection catches her eye at a kickboxing class, Ella loses a little bit of that wall around her.
Nate really is a huge guy. It almost seemed like the author was describing someone who looked like Dwayne "The Rock" Johnson. I don't think Nate would really be quite THAT big but I think he's close. But even if he resembles the dude on the cover? Oh my! I don't think I'm giving anything away by saying that Nate is a Nephilim, the offspring of human/angel mating from long ago. Nephilim have certain gifts but Nate was born weak and has very few, if any, gifts. He does have super speed but he rarely uses it since it pegs him as different. Like Ella, Nate is physically scarred. Again, I don't want to get into how he was scarred even though it's introduced into the book pretty quickly. But I'd rather you read this book to find out all of the details. Nate is a really great guy. I mean, what would you expect from the decendant of an angel, right? But still, he's great. And hot and caring and sweet. And he has a special connection to Ella that will surprise you.
I liked this book. I had only two small problems with it: hardly any Sexy Time and some confusion at the beginning. With someone as physically fit as Ella and with a man as perfect as Nate, I was hoping for more hot scenes. But what it lacks in Sexy Time, it makes up for in other ways. The mystery of Ella and Nate's backgrounds is pretty interesting. But I think that's why I was confused in the beginning. I've read one of the previous novels in this series and I was lost for quite a while. I thought that maybe the author held off on Ella's trauma a little too long before revealing it. The lack of details was about to take me out of the novel. I mean, it was becoming obvious that the author was holding information back on purpose.
I would still recommend this book. But I would say to have patience with this one. It doesn't start off with a bang or anything but it IS a great book and its really entertaining. In fact, I think it has a great mix of suspense, maybe a little horror and a few laughs. Although Wounded Angel isn't as good as Book 1 in the Earth Angel series, I still had a lot of fun reading this and I think you will too!
Book Info
Book three in The Earth Angels
A descendant of the Angel of Vengeance, Nate da Luca was gifted with an uncanny ability to find things. It made his job as a detective a breeze—until he learned the hard way that some things should remain hidden. After that, his powers vanished, along with his belief in himself. Which is going to make tracking down Gabriella Littlefield for his latest client a challenge.
Personal trainer Ella Little paid a hefty price for her life—now all she wants is to live it in peace. Then a sexy hulk of a man turns up in her gym, reigniting desires she thought she'd left behind along with her real name and hair color.
Desires she can't deny even after she discovers Nate's no stranger to her dark past.
Before he can convince her the attraction is mutual, Nate's going to have to earn Ella's trust. But a demon is playing for keeps in the world of humans, using Ella as bait, and the last thing they have is time…
Go back to the beginning with Nobody's Angel, available now!
63,000 words