Josh and Gemma Make a Baby by Sarah Ready: This is going to be her year, full of positive thinking and hope Gemma is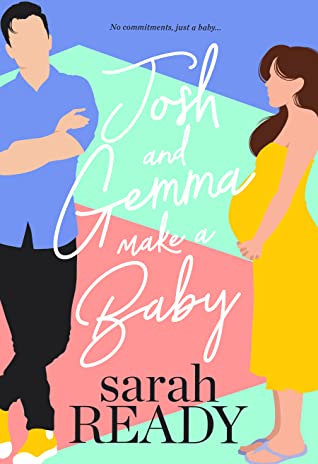 going to take her life into her own hands and get herself a baby! After having her marriage go up in flames and finding out that she can't have a baby in the conventional way, all Gemma wants now is to have a baby that she can love unconditionally. Which is how she finds herself looking at IVF, Now that she has the egg bit sorted all she needs to do is find herself a sperm donor and who better than Josh Lewenthal, after all he is practically part of the family already. With this new journey comes a whole lot of new heightened emotions the biggest one being these new feelings that Gemma is starting to form for Josh.
This book was such a treat to read, I have to say that I actually enjoyed reading Josh and Gemma's story a lot more than I had expected. Before I go any further I have to mention the amazing cover art, I absolutely loved the light breezy feel that this cover had and that it was so on point. I loved that for the most part this was a fun light read but there were quite a few heavy topics laced throughout the novel. I really liked the way Ready handled the entire topic of fertility and all the trials and tribulations that the ladies in this book faced. Not only was the topic handled with grace but it came across in a very relatable manner.
"I'm afraid of him. I realize that now. I'm afraid of Josh Lewenthal. Not because he's horrible, or a cheater, or a bad person, but because of exactly the opposite. Because I could easily fall completely, totally, irrevocably in love with him."
Our two main characters were amazing, I loved the witty, flirty banter between Gemma and Josh. These two played off each other in the best way possible. I really enjoyed getting to follow Gemma on her journey to motherhood and really just finding herself in the process. As much as I wanted to fully love Gemma, I did find her a tiny bit self absorbed and too wrapped up in her inspirational quotes. Though I will say that I really liked that she knew what she wanted and found a way to achieve that goal. I also liked that she finally learned that its not always what it looks.
"I need your sperm," I blurt out.
Josh stars to choke, then coughs. His face turns red and hits his chest.
Oh no. I've killed him.
"You want to have sex?" He looks really confused. "Gemma, you really have to work on your pick-up lines."
For me it was Josh that stole the show in this book, not only was he genuinely a nice, easy going guy but he really did want to help Gemma find happiness. I loved that the more we read the more we got to know Josh and that he was very similar to Gemma and that all along they were both looking for that unconditional love. My heart did break for him when he explained his motives for agreeing to be the donor. Also how cute was his comic series this was one of the best grand gestures that I have read. Though I will say Gemma did make a pretty big grand gesture too.
I loved the girls of the support group or as I like to think of them the happy pink uterus club. I loved that we got to see this fertility journey through three other sets of eyes and that everyone goes through the process on their own terms. Also can we take a moment to mention Gemma's family, gosh were they a treat all their own. I loved their cute resolution game and the way the entire book came full circle and ended at this resolution party.
I absolutely loved reading this cute and emotional romance, Josh And Gemma Make A Baby is a define must read.
Book Info:
Publication: January 25, 2022 |

Pub: Sarah Ready |
New Year's Resolution:
Have a baby
Preferably with Josh Lewenthal
Meet Gemma Jacobs. She's driven, energetic, and a positive thinker. She has a great career working for famed self-help guru Ian Fortune, she lives in a cute studio apartment in Manhattan, and her family is supportive and loving (albeit a little kooky). Her life is perfect. Absolutely wonderful.
Except for one tiny little thing.
After a decade of disastrous relationships and an infertility diagnosis, Gemma doesn't want a Mr. Right (or even a Mr. Right Now), she just wants a baby.
And all she needs is an egg, some sperm, and IVF.
So Gemma makes a New Year's resolution: have a baby.
Josh Lewenthal is a laid back, relaxed, find-the-humor-in-life kind of guy. The polar opposite of Gemma. He's also her brother's best friend. For the past twenty years Josh has attended every Jacobs' family birthday, holiday, and event – he's always around.
Gemma knows him. He's nice (enough), he's funny (-ish), he's healthy (she thinks) and he didn't burn any ants with a magnifying glass as a kid. Which, in Gemma's mind, makes him the perfect option for a sperm donor.
So Gemma wants to make a deal. An unemotional, businesslike arrangement. No commitments, just a baby.
To Gemma's surprise, Josh agrees.
They have nothing in common, except their agreement to make a baby and their desire to keep things businesslike.
But the thing about baby-making…it's hard to keep it businesslike, it's nearly impossible to keep it unemotional, and it's definitely impossible to keep your heart out of the mix. Because when you're making a baby together, things have a way of starting to feel like you're making other things too – like a life, and a family, and love. And when the baby-making ends, you wish that everything else didn't have to end too.