One Night Consequence (Clashing Birthrights #4) by Yvonne Lindsay is a story with a lot of meaning. Stevie Nickerson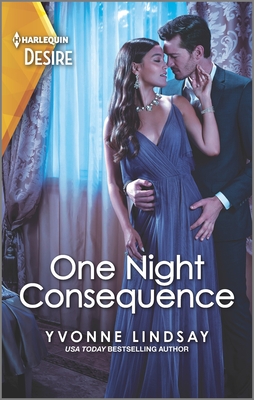 is the owner of the boutique hotel Fletcher Richmond arrives at for two weeks away from family and business dramas.
Both have known each other for years, as Fletcher was Stevie's late husband's best friend and they have been attracted to each other since they met in her last year of college, without doing anything about it…until they meet again at Stevie's hotel. As much as they try to keep their distance, the last night of Fletcher's stay they end up in bed, with permanent consequences. Fletcher promptly offers Stevie to make her son legitimate through marriage, but she adamantly refuses as her first marriage left her deeply scarred and she has vowed never to be dependent on another man again.
Fletcher and Stevie's relationship starts to develop before the story began, quietly but consistently, and blossoms naturally throughout the plot. The chemistry is palpable and the hero-heroine interactions are believable. However, Stevie puts up every possible obstacle to keep Fletcher away from her, even though they are now bonded over the baby they're expecting. This refusal is the center of everything, since she's a woman who has suffered emotional abuse from her first husband. So she's not going to allow anything or anyone to threaten her independence. Fletcher, for her part, tries to get closer to her while he seeks to have a balance between his personal and professional life, which has made him dissatisfied for a long time.
To put Fletcher's situation in context, this is the fourth book in the Clashing Birthrights series and, in short, it's about the death of Fletcher's father that uncovers his double, having two families at the same time, coast to coast. Without leaving this fact out of the plot, the secondary characters bring the details of this subplot to Fletcher's point of view.
I love the way the author presents the traumas victims of emotional abuse can experience, which Stevie goes through; she doesn't abuse melodramas and gives due respect to the problem. Likewise, she draws attention to the pandemic and the effects it has had on tourism without expanding too much on the subject. Without a doubt, Ms. Lindsay did her homework pretty well.
This book is very well written. The scenes flow smoothly and the transitions border on perfection. The author knew how to sell a credible, sensitive and current story, sending her message clearly and precisely.
Book Info:

Publication: February 22, 2022 | Harlequin Desire | Clashing Birthrights #4
An off-limits attraction leads to a pregnancy shocker in this Clashing Birthrights novel by USA TODAY bestselling author Yvonne Lindsay.
An unexpected visitor
leads to a surprise that rocks her world…
After being in a controlling relationship, hotelier Stevie Nickerson won't let anyone take away her hard-earned independence. So when construction CEO Fletcher Richmond, her deceased husband's best friend, unexpectedly strolls into her boutique hotel for a little R and R, she's leery to say the least. But when innocent flirting leads to off-limits innuendo, she ends up in his bed…and expecting his baby. With Fletcher insisting on marriage and providing a boost to her business, will Stevie rebuff his bossy moves…or let her guarded heart melt?
From Harlequin Desire: A luxurious world of bold encounters and sizzling chemistry.
Love triumphs in these uplifting romances, part of the Clashing Birthrights series:
Book 1: Seducing the Lost Heir
Book 2: Scandalizing the CEO
Book 3: What Happens at Christmas…
Book 4: One Night Consequence