In Just the Two of Us by Jo Wilde, A lot can obviously happen with a marriage that spans thirty-five years.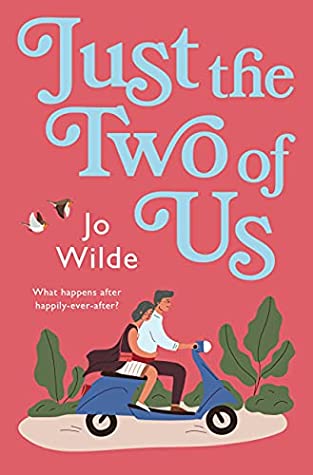 The ups and downs, the fights and the reconciliations. But unfortunately for Julie and Michael Marshall, there haven't been so many makeups as there have been rows in the past few years. Is it empty-nest syndrome? Have they not made enough time for each other? Or have they outgrown their relationship? As a global pandemic looms, pushing them together in the same house–without their three now-grown children as buffers–during lockdown, it seems Michael and Julie will probably get their time to figure it out.
'So many times she'd thought they might reconcile and so many times she'd been wrong. Why put herself through that again?'
With divorce papers burning a hole through their hiding place in her bedside drawer, Julie wonders if there's any sense trying to rehash their past and fix it all. And Michael has no idea how to reach his wife, who–although he loves her free spirit and independence–makes it difficult to share his thoughts, much less his feelings. But they can't forget their passionate beginnings. And what a wonderful team they made. Bit by bit, as Michael and Julie look at where they started and are reminded what they loved about each other, they'll have to determine if that love is still strong enough to carry them three-and-a-half decades later.
"It's all gone wrong, hasn't it?" He gestured around them, unable to say exactly what he meant: our life, our family, our marriage. "All of this. It's gone so very, very wrong."
…"The world's gone wrong at the moment, Michael."
A book about a marriage that was set to implode as a couple went into lockdown during the pandemic…and it ended well? Yep. It wasn't an easy road. But author Jo Wilde showed us what newfound time together and remembering what's important can do to alter relationships for the better.
"So it's…just the two of us, then?"
"Just the two of us," she confirmed. Never had those words sounded more ominous.
I love that Jo Wilde brought out the more positive aspects of the pandemic. And that's not to make light of the heartbreak, loss, and negative parts of Covid we've all dealt with over the past two years. But it was nice to see how Julie and Michael went from her procuring divorce papers to, by the end of the novel, on their way to possibly even being a better version of the couple they had started out as. Like I mentioned, it wasn't easy for either of them. And there was a serious lack of communication on both Michael *and* Julie's sides. But I can't say it's far off the mark, considering they had been together for thirty-five years and all the water that would be under that bridge.
I think that even if you're not married and/or don't have kids, some part of Julie and Michael's story will likely resonate with you. From the aforementioned communication breakdown to feeling like they've lost themselves in their jobs/family life and even the drudgery of lockdown, Wilde explored it all–and didn't gloss over the gritty, raw, emotional parts. Yes, I wanted to give Michael and Julie a little shake here and there to smarten them up. (lol) And I was frustrated when they wouldn't express their feelings. But the way Wilde interspersed passages from their past throughout the story really painted a picture of how Julie and Michael got to that heartbreaking point in their marriage. And how in sync they had once been. Thankfully, they realized that too and I am happy to say they got the sweet HEA they so deserved.
QOTD: Julie and Michael finally had (and took) the time to repair their marriage during lockdown. Was there anything during that time you felt good to accomplish? (Self-care, learned something new, mended a relationship, helped those in need, etc)
Book Info:

Publication: Expected publication: April 12th 2022 (first published July 9th 2020) | Forever |
A couple on the brink of divorce after 35 years of marriage gets a second chance to rediscover their love now that a pandemic lockdown has forced them to spend more time together.
Julie and Michael Marshall have stayed together through thick and thin, through better and worse — and, for the last few years, it has mostly been worse. As their thirty-fifth wedding anniversary approaches, Julie realizes something: she doesn't want to pretend anymore.
Divorce papers at the ready, she's just about to have The Talk with Michael when everything changes. Lockdown begins and Julie and Michael face the greatest terror they can imagine: uninterrupted time with each other. But, when stripped of all distraction and forced to meet eyes across the dinner table, could it be that Julie and Michael might find a way back to where they first began?