In Necessary Evil (Sentinels of Babylon #1) by Jamie K Schmidt,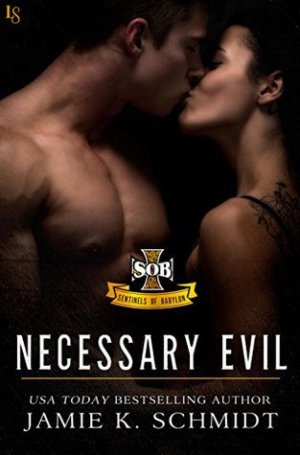 Lucy Simmons believes in the justice system and in the statement 'innocent until proven guilty'. Working as a public defender, she's good at what she does, and doesn't believe in anyone taking matters into their hands like some believe ex-cop Evan Villiers and his friends seek in the name of justice. Will Lucy listen to the warnings before it's too late, especially with everything going on with her troubled brother?
"Thank you," she said, remembering her manners. "I mean that. If you guys hadn't been here…" Lucy started to shake. She rubbed her bare arms, hoping he would think it was from the chilly night air.
"But we were," he said. "Now, climb on the back of my bike and I'll take you to my place. You can warm up and relax while we wait for your purse to come back."
Lucy bit her lip. "I don't want to be any trouble."
"Sweetheart, in that dress you're nothing but trouble."
From start to finish, Ms. Schmidt has penned an emotionally-charged novel that combines a bit too much romance with the right amount of suspense for me. Yet, in saying that, I absolutely enjoyed this story — which encompasses the enemy to lovers trope — even though there were moments where I wanted to scream in frustration at the main characters, especially the heroine. Evan and his friends pose a danger to her because of what they do, and yet she continued to stick by him. It made me wonder if she had a death wish, but as the story progressed her loyalty to Evan proved that love conquers all, especially with what happens at the end of this book.
As for the dialogue, it was intense due to the main characters back stories, the danger that the hero and heroine face and the history between these two. They were on opposite sides of the law when Evan was a cop and her being a lawyer. She's good at her job and sometimes that annoyed cops, which is proven by the harassment Lucy suffers at the hands of cops that don't like her. However, there were a couple of light-hearted moments that had me smiling, especially when Lucy is joking about what she does to one of Evan's friends.
"I meant what I said this afternoon. The guys aren't going to hassle you anymore."
"Who would have thought all I had to do was crack a chair over Sentinel's head?"
"At least you didn't hit anything important."
Lucy is strong, brave and I liked that she fights for what she believes is right; how true she is to the statement 'innocent until proven guilty'. Even when the evidence is stacked up against her in the obstacles she faces with Evan and her brother. Can she trust her brother when he's been on the wrong side of the law before? Can she trust Evan when there are things he won't talk about? While Evan, I absolutely loved him. He's confident, loyal and protective. He believes justice should be served, no matter how it's done to people that have committed heinous crimes and get off on technicalities in court. Yet, being with Lucy makes him question who he owes more loyalty to – her or the other Sentinels. He has some decisions to make, as being with Lucy makes him question whether he should continue being a Sentinel, and I believe he made the right choice in the end. However, what I liked most of all is that he would do anything to protect Lucy, even if his decision could make her turn away from him forever.
Overall, this book was a great start to Ms. Schmidt's Sentinels of Babylon series where the sex scenes were red hot and could make female readers a little envious of Lucy. Evan has some serious skills in the bedroom, and will do everything he can to make Lucy happy. The way this story ended had me laughing, especially because of Lucy's reason for reuniting with Evan. Of course, the hero would rush to be there to protect her from one of the things she fears most. I would recommend Necessary Evil by Jamie K. Schmidt, if you enjoy romantic suspense or the enemy to lovers trope.
Book Info:

Publication: November 1st, 2016 | Loveswept | Sentinels of Babylon #1
Lucy Simmons comes from a rough family, but she's a damn good public defender. Even though she hates to see criminals walk due to sloppy police work, the law's there to make sure everyone gets a fair trial, and Lucy certainly doesn't believe in the kind of justice meted out by the leather-clad ex-cop they call "Evil." He's stubborn, cynical, and out of control—but he plays her body like no man ever has. For once, both Lucy's boss and her brother agree: The biker is trouble.
Evan Villiers took a sacred vow to let no killer, rapist, or pedophile go unpunished. When scumbags fall through the system, the Sentinels of Babylon clean up the garbage. Although the SOBs and their methods may not be to Lucy's liking, the beautiful lawyer has become Evan's light in the dark. But his next hit is Lucy's own brother—a murderer who got off on a technicality. Now, with his loyalties split, Evan must turn his back on his sworn duties . . . or lose the woman who has claimed his reckless heart.