Keeping Secrets In Seattle by Brooke Moss is an extremely touching, and captivating look at lifelong friends who struggle to take their relationship to the next level.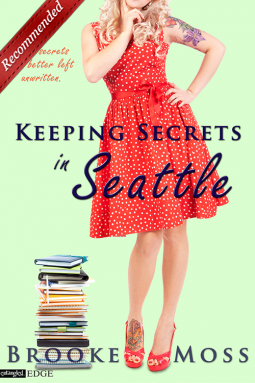 Violet Murphy has been in love with Gabe Parker since she was six years old.  As teenagers she and Gabe dated for a while but broke up when Gabe suspected that Violet cheated on him.  Nothing could be farther from the truth, and Violet has been carrying a secret around about what really happened all of those years ago.
Just when Violet is ready to profess her feelings to Gabe he suddenly announces that he has become engaged to Alicia, whom Violet can't stand. Not only that, Gabe has asked her to be his best man in the wedding.  Shattered that the love of her life is marrying another Violet tries to move forward with her own life.  She meets and starts a relationship with Landon Harlow, a heartthrob that rides a motorcycle, and who is deeply in love with her. Despite trying her hardest she just can't shake her feelings for Gabe.
When Gabe finds out that Alicia is really a gold digging, liar he calls off the wedding, but he is still unsure just where he stands with Violet.  It will take drastic measures for Gabe and Violet to finally come together and have their happily ever after!
Brooke Moss has created a heartwarming, affectionate, and enticing tale with Keeping Secrets In Seattle. I found myself moved to tears as Violet struggled with her feelings for Gabe, and when she finally comes clean with her secret.  At times I wanted to shout at Gabe to dump the insufferable Alicia, and get a clue that it is Violet that he really wants.  I shouted with joy when in the end true love wins out and Gabe and Violet do walk off in to the sunset hand in hand.  This wonderful book will win over all those romance fans who love a great friends to lovers story!
Rating: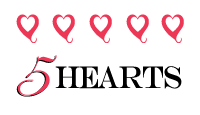 Book Info: Pub. Entangled Edge, Feb 18, 2013
Seattle hairstylist Violet Murphy always knew the day would come when her best friend Gabe Parker would want to settle down. She'd secretly wished it would be with her, but now that he's chosen someone else—the prim, perfect Alycia—he wants Vi to be his best man.
Healing her broken heart isn't easy, but when Violet meets Landon Harlow, a man who isn't fazed by her funky style and less-than-delicate attitude, she takes a step in the right direction. Until Gabe's fiance's gorgeous facade begins to crack, and Violet's disturbing past comes back to haunt her, that is. Vi now finds herself armed with a series of lies that would break Gabe's heart—and his engagement—if he knew their truth, and a secret from their childhood that could change everything.
With the wedding looming, her relationships unraveling, and the bachelor party of the century to plan, Violet must choose between a fresh start with Landon, or confronting her painful past and risking it all for a chance at a future with Gabe.